Cathay's Cheng Says Asia Has Two-Year Wait Until Trade Picks Up
by
Goldman's Matsui: China has more reality check than 1990 Japan

UBS's Shih: Aging Japan population may not be such a bad thing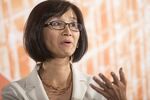 Asia must shift from exports to domestic consumption to drive growth as it waits for a pickup in world trade, according to Sophia Cheng of Cathay Financial Holding Co.

More goods being consumed domestically would naturally be accompanied by a drop in exports, Cheng, the firm's Taipei-based chief investment officer said Wednesday at the Bloomberg Markets Most Influential Summit in Hong Kong.
"In two years' time I'll be expecting global trade to resume growth, despite at a more modest rate," Cheng said on a panel discussion about future economic growth drivers for Japan, Singapore, Taiwan and South Korea.
Slowing growth in China won't lead to a hard landing for the largest Asian economy, according to Cheng and Goldman Sachs Group Inc. Chief Japan Strategist Kathy Matsui, her fellow panelist. Tokyo-based Matsui said that when she visits Beijing and presents her name card, she is often asked how the country can avoid the same fate as Japan's long slump.
"There's a greater level of reality check," Matsui said on the panel. There's "less hubris if you can believe it, in China today than I saw in Japan in the early '90s."

Japan is struggling to figure out how to replace the export growth engine with domestic demand, Matsui said. "There's a large aging population with not enough services, frankly, to meet their needs, so I think that is a potential area of long-term growth," she said.
UBS Group AG Asia-Pacific President Kathryn Shih said Japan's aging population may end up proving to pay more of a dividend in unexpected ways.
"The thing is to focus more on the needs of the aging population, their health care, and I think the e-commerce sector is also something that's going to be taking off," Shih said. "We see the proliferation of e-commerce businesses in China and elsewhere in Asia, so I think these are two very important themes taking us forward to the future."
Before it's here, it's on the Bloomberg Terminal.
LEARN MORE