BOE's Shafik Thankful for Good U.K. Weather Amid Brexit Dampener
by
Retail sales jumped in July as British temperatures rose

Deputy governor says impact of vote to quit EU to be long-term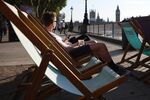 Thank goodness for the weather.
That appears to be the view inside the Bank of England, which remains concerned about the long-term outlook for businesses, households and the broader economy even after it responded to the Brexit vote with a barrage of stimulus in August.
Speaking on Wednesday, Deputy Governor Minouche Shafik said the measures were justified because of the "sizable economic shock" of the vote to leave the EU.
Asked by Bloomberg Editor-in-Chief John Micklethwait if there was any positive impact from Brexit, Shafik paused. Her offering? The sunny summer enjoyed by Britain.
"The weather's been really good since the referendum," she told the audience at the Bloomberg Markets Most Influential Summit in London.
There is perhaps something to her remarks. U.K. retail sales surged in the month after the EU vote, which statisticians put down to a spurt of hot weather boosting clothing demand.

Shafik's comment followed a less rosy analysis of the outlook and the fact that with the U.K. yet to even start the EU exit procedure, there's a risk of a more persistent slowdown.
"The impact is going to be longer term because everyone has realized that the process is going to be longer term," she said. "It's going to take quite a long time to agree on the end state and what it will look like, and economic agents will take a while to respond to that."
The U.K.'s average temperature over the summer was 14.9 degrees Celsius (58.8 degrees Fahrenheit), or more than half a degree higher than is typical, and September may have been even more of an outlier, according to the Met Office.
In other words, the weather has indeed been really good since the referendum.
Before it's here, it's on the Bloomberg Terminal.
LEARN MORE