Bankers in Sweden Warn 16,000 Finance Jobs at Risk Amid New Tax
By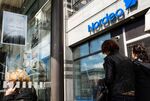 The Swedish Bankers' Association says a planned tax targeting the finance industry would put some 16,000 jobs at risk.
The ruling coalition in Sweden, where assets in the four largest banks are four times the size of the economy, has proposed a new payroll tax that the association says may be set at 15 percent of financial industry salaries. Citing "signals" from a government-ordered review on the levy that has yet to be published, the group said such a move would jeopardize almost one-fifth of Sweden's 85,000 finance jobs.
The industry repeated a warning that imposing such a tax could force banks to move jobs out of Sweden and instead rely more on lower-wage countries such as the Baltic states. Nordea Bank AB Chairman Bjoern Wahlroos has underscored this risk ever since the government first started discussing the tax. But Finance Minister Magdalena Andersson has consistently countered that Swedish banks are profitable enough to be able to afford the additional taxes.

Before it's here, it's on the Bloomberg Terminal.
LEARN MORE