Banker's Journey to Power Tracks Poland's Revolt Against EU
By and
Morawiecki heads new Polish super ministry for the economy

He wants 'economic patriotism' and more control of banks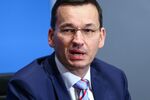 There aren't many people who embody the speed and depth of Poland's political transformation more than Mateusz Morawiecki. 
It's taken less than a year for one of Poland's most prominent bankers to turn into its most powerful government minister, switching from a figure representing foreign investment and influence in the economy to one who questions it. Morawiecki, 48, who ran the Polish business of Banco Santander SA until November last year, was put in charge of the country's finances this week, with a mandate to champion the governing Law & Justice party's "economic patriotism."
"As a peripheral country that's dependent on outsiders, we need to protect our markets, build savings and follow the patriotic values represented by Law & Justice," Morawiecki told students in the city of Poznan this month.
The comments echoed the narrative of Poland's new leadership, which spent the past year clearing out the old elite, consolidating economic and political power around loyalists and unpicking policies on defense, energy and justice that put Poland in the European mainstream. Underneath, the upheaval is dragging on the $475 billion economy, with the biggest slump in investment for almost four years and an increase in the premium Poland pays to borrow.

Morawiecki, who ran Santander's Bank Zachodni WBK SA for more than eight years, is responsible for addressing that as Poland's most powerful economic official following the dismissal of Finance Minister Pawel Szalamacha by Prime Minister Beata Szydlo. As deputy prime minister, he also has a leading say in the running of state companies and the spending of European Union aid.
For a QuickTake explainer on Poland's new political order, click here
The former banker is an advocate of the party line of restoring more of the financial industry to Polish ownership, or "re-Polonization." Banks are 60 percent owned by foreign companies and Morawiecki is seeking to organize government-backed bids for the Polish units of UniCredit SpA and Raiffeisen Bank International AG.
Obedient
The new setup enables the "continued concentration of power at the very highest levels of Law & Justice, and this might be seen as marginally negative," said Paul McNamara, who manages investment in emerging-market debt at GAM U.K. Ltd, including Polish bonds. "Morawiecki's main characteristic is obedience." 
He has criticized foreign companies for siphoning their profits, something he oversaw during his banking years. Bank Zachodni paid out 3.4 billion zloty ($888 million) in dividends during his stint as chief executive officer, with Santander and previous owner Allied Irish Banks Plc entitled to 2.2 billion zloty, according to calculations by Bloomberg.
"Morawiecki became a politician when he joined the government," Michal Dybula, chief economist at BNP Paribas SA in Warsaw, said on Monday. "If people thought he would be mainly representing the views of the market, that was a bit naive."
Two Heads
The super-minister's economic clout in the government is set to be the biggest by anyone since Leszek Balcerowicz, the author of Poland's "shock-therapy" economic reforms of the early 1990s. Morawiecki was anointed by Law & Justice leader Jaroslaw Kaczynski, who most Poles say wields the real power in their country, when in July he called on people to forget "vermin" Balcerowicz and make way for Morawiecki.
Morawiecki outlined his vision for the economy in a 66-slide presentation in February. It included 1 trillion zloty of investment in the coming years to turn Poland into a producer of goods including high-end drones, trains, electric vehicles and mining equipment while increasing per capita gross domestic product to 79 percent of the EU average by 2020. Funding will come from EU transfers, savings of domestic companies, and excess liquidity at banks and loans.
Broadsheet Rzeczpospolita said the government was now "two-headed" because Sydlo had surrendered the economic part of her mandate and Morawiecki now rivaled her power in running the country. Szydlo piled pressure on him to quickly deliver on his development plan, saying on Wednesday he was facing "a great responsibility and a great challenge."
"It' not like suddenly there are limits and Mr. Morawiecki can go and spend it all, absolutely not," Szydlo told a news briefing Thursday. "His main job is to safeguard the budget, because this is the finance minister's role, and it's not a pleasant one."
While Poland's economy is growing at about 3 percent, faster than most EU countries, investment slumped 4.9 percent in the second quarter, the biggest drop since 2012, partly because of concern about the political backdrop.

The extra yield investors demand to hold Polish debt instead of German bunds increased to an average of 2.7 percentage points in the past year, more than 60 basis points higher than in the previous 12 months. Earlier in September, Polish borrowing costs exceeded those of Hungary, a country ranked lower by S&P Global Ratings. Poland's once-booming stock market is Europe's worst performer after Italy's since the election in October 2015, with state-controlled companies leading the decline.
Having a former bank chief in charge of the economy may help Polish stocks and bonds, according to Maciej Slomka, a portfolio manager at Fixed Income Absolute Return Fund in Warsaw.
"Gaining a bigger role should at least be taken as a neutral by investors," he said. "He will be the most important person in the government by consolidating responsibility for all economic issues."
The question remains, though, what he does with that power. As Morawiecki told the Sunday Guest, a Catholic weekly in Poland, over the summer: "It's high time to end childish liberalism and times of palm trees for the select few in Poland."
— With assistance by Adrian Krajewski, and Konrad Krasuski
Before it's here, it's on the Bloomberg Terminal.
LEARN MORE