Shafik Says BOE Could Ease Before Hammond Outlines Brexit Plan
by
More stimulus likely to be needed, deputy governor says

BOE sets policy on Nov. 3, with government budget on Nov. 23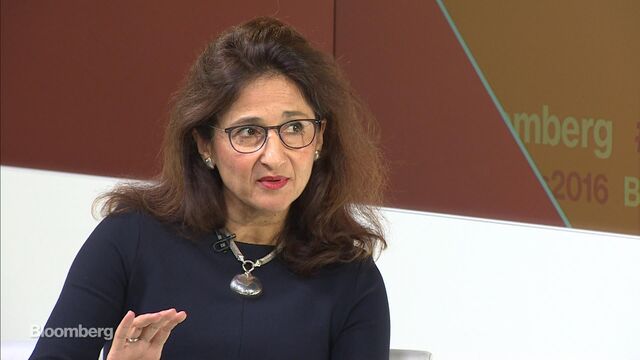 Bank of England Deputy Governor Minouche Shafik said officials could ease policy as early as their next meeting on Nov. 3, even before the government announces any fiscal measures in response to Britain's Brexit vote.
The BOE has previously said most officials expect to act again this year, after the Monetary Policy Committee cut their key interest rate for the first time in seven years in the wake of the decision to quit the European Union. The timing of the central bank's judgment is complicated by the fact that U.K. Chancellor Philip Hammond won't deliver his end-of-year fiscal statement until Nov. 23.
"If we have data prior to that which signals that stimulus is needed, we will obviously act," Shafik told Bloomberg Editor-in-Chief John Micklethwait in a question-and-answer session at the Markets Most Influential Summit in London on Wednesday. "I'd much rather be on the front foot and act preemptively, rather than be on the back foot and do too little too late."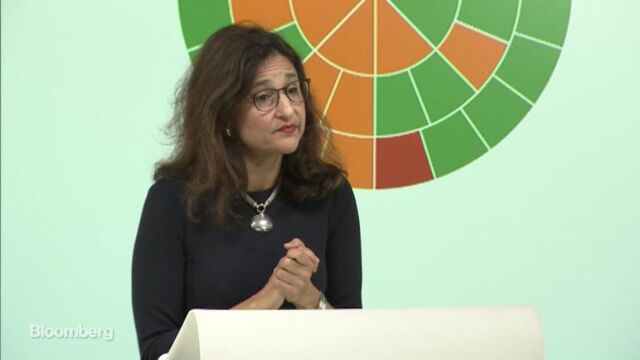 The pound weakened after her comments, falling 0.2 percent to $1.2996 at 11:18 a.m. London time.
BOE officials led by Governor Mark Carney are assessing the potential longer-term fallout from Brexit. Policy makers cut their key rate in August as part of a package of measures, and at the September meeting signaled the chance of a further rate cut in 2016, should the economy evolve in line with their forecasts.
While all nine MPC members voted unanimously this month to continue with their stimulus package, some have said they remain unhappy with the scale of the policy loosening. Kristin Forbes and Ian McCafferty, who voted against parts of the plan in August, have said the outlook doesn't fully warrant its new government-bond purchases.
Officials have said they have room to cut the rate, now at a record-low 0.25 percent, closer to zero. Shafik, who is deputy governor for markets and banking, said they also have scope to expand their quantitative-easing program.
Forward-Looking
Continuing Coverage: Bloomberg Markets Most Influential Summit
"The forward-looking indicators, particularly things around investment intentions, still look quite worrying," she said. "So I don't think the uncertainty is anywhere near over and I think it's too early to ultimately assess what the impact is."
Carney said in an interview with the The Herald published Wednesday that Scotland and other parts of the U.K. are facing the same issues in the wake of Brexit, and that the economic adjustment is still in its early stages.
Even so, officials now see the U.K.'s economic recovery from the Brexit hit as more U-shaped, compared with the sharper more V-shaped one they projected in August, according to Shafik. While in an earlier speech at the event, she noted that a "radar" of data suggest the slowdown may not be as sharp or as sudden as the MPC had feared, further action may still be warranted, she said.
"It seems likely to me that further monetary stimulus will be required at some point in order to help ensure that a slowdown in economic activity doesn't turn into something more pernicious," she said in the speech. "The likely timing of that stimulus will depend on the continued evolution of the data over the coming weeks and months."
Monitoring Deutsche
Shafik acknowledged concerns surrounding the future of Deutsche Bank AG, which operates as an overseas branch in the U.K. and so isn't under direct BOE supervision. She said British regulators were working closely with the European Central Bank after the German lender's shares plunged to a record low this week amid capital concerns.
The deputy governor echoed other central bankers globally by saying monetary policy can't carry the burden of resolving economic woes. Fiscal and structural actions by governments, and international coordination, are also needed, she said.
"I don't know what the Treasury is planning," Shafik said. "I think they're still working on it. I'm sure they'll share it with us at the appropriate time so it's too early to say whether it'll be enough or not."
Before it's here, it's on the Bloomberg Terminal.
LEARN MORE