Asian Stocks Fall as Tokyo Shares Decline, Oil Drops Below $45
by
More than half of Topix firms trade with no right to payout

Saudi Arabia doesn't expect production output deal to be done
Asian stocks fell, pushed down by declines in Japanese shares and a weaker oil price as hopes of an output cut fizzled.
The MSCI Asia Pacific Index declined 0.9 percent to 140.66 as of 1:36 p.m. in Tokyo. The Topix index dropped 1.7 percent, the most in two-and-a-half weeks, as more than half the companies on the benchmark traded without the right to the next dividend, a biannual event in Japan that typically sends the market lower to reflect the effect of the payout on companies' assets. The yen was at 100.61 per dollar. Oil trading was volatile, with the price below $45 a barrel as investors scaled back expectations of a deal on output cuts when OPEC ministers meet later Wednesday.
Asian stocks declined as S&P 500 Index futures pulled back after jumping in the wake of the U.S. presidential debate even as U.S. consumer confidence jumped to the highest since 2007, boosting optimism of a recovery in the world's largest economy. Asian shares are set to complete the best quarter since the three-month period ended March 2012, helped by a rally Tuesday on investors' perceptions that American presidential nominee Hillary Clinton beat Donald Trump in their first debate, renewed investors' risk appetite. Citigroup Inc. said a Trump Republican win in November could send shares slumping.
"We have been seeing a pullback in U.S. futures coming into the open session after what was a pretty strong U.S. market, and Europe had a negative night," Angus Nicholson, a market analyst in Melbourne at IG Ltd., said by phone. "Oil is certainly not helping too much."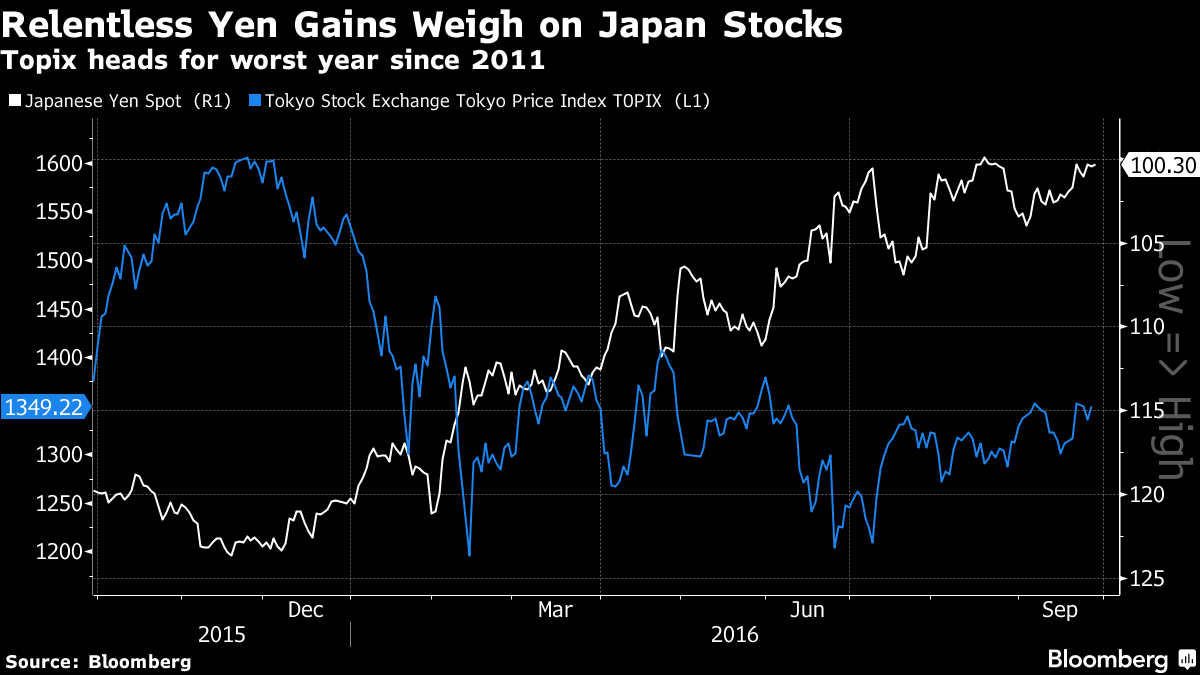 Unlike other developed markets, where shares trade ex-dividend at different times throughout the year, in Japan that generally takes place in March and September. Some 1,094 shares went ex-dividend on the 1,966-member Topix, equating to a 11.15 point drag. Exporters and banks contributed the most to the decline.
South Korea's Kospi index fell 0.5 percent. Australia's S&P/ASX 200 Index was down 0.1 percent. New Zealand's S&P/NZX 50 Index added 0.5 percent. Taiwan's financial markets are closed for a second day because of Typhoon Megi that has left at least four dead and more than 300 injured.
Postal Savings Bank
Hong Kong's Hang Seng Index fell 0.6 percent, reversing a 1.1 percent advance on Tuesday. The gauge has outperformed its Asian peers this quarter with a 13 percent rally, boosted by rising flows from mainland China.
Postal Savings Bank of China Co., the nation's fifth-biggest lender, made a feeble debut in Hong Kong, with the shares little changed after a $7.4 billion initial public offering.
Futures on the S&P 500 Index fell 0.2 percent in most recent trading. The U.S. equity benchmark advanced 0.6 percent Tuesday after the better-than-expected consumer confidence report.
Oil erased earlier gains to be little changed. West Texas Intermediate crude slid 2.7 percent Tuesday after expectations of a deal to cut output among the world's largest crude producers seemed to fade as OPEC ministers prepare to meet in Algeria. Saudi Arabia left open the possibility of a deal at the next meeting in November after indicating it's ready to compromise with rival Iran on production cuts.
Before it's here, it's on the Bloomberg Terminal.
LEARN MORE