technology
Argentina Sees First Tech Billionaire in Macri Renaissance
By and
Marcos Galperin started MercadoLibre in a Buenos Aires garage

Shares in the online marketplace have doubled in 12 months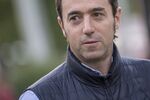 When Argentine President Mauricio Macri needed a place to sell his vision for reviving his country's economy, he chose the Buenos Aires offices of MercadoLibre Inc., Latin America's largest online marketplace.
By his side was the company's 45-year-old founder and chief executive officer,
Marcos Galperin, who used the August event to reveal plans for a $100 million investment that he said will create 5,000 new jobs in the region. The announcement came as he was unveiling a 33,000 square-meter (355,000 square-foot) office in Sao Paulo equipped with a massage room, ping-pong tables and a solar panel rooftop.
"Every time we meet with Marcos, he says, 'We need more square meters.'" Macri told the crowd of reporters as he promoted his reforms to encourage startups.
That appetite for expansion has turned MercadoLibre into the most valuable publicly traded company based in Argentina with a market value of $8.3 billion and revenue last year of $651.8 million. Including the Stanford University graduate's 9.6 percent stake in the business, he has a net worth of $1 billion, according to the Bloomberg Billionaires Index. Galperin declined to comment on his net worth.
Resilient Startups
The technology executive is the second Argentine to emerge as a billionaire this year with MercadoLibre shares reaching a record $191.25 on the Nasdaq stock exchange last week. Financier Jorge Horacio Brito became a billionaire in August when his Banco Macro SA surged on Wall Street's enthusiasm for the government's finance-friendly policies.
"Argentina's technology hub is absolutely leading the continent," said Lisa Besserman, founder of Startup Buenos Aires, an accelerator that connects and supports startups in the city. "Past economic and political instability has created a very resilient class of entrepreneurs that I've never seen elsewhere around the world."

Galperin controls his stake through Galperin Trust, which "was established for the benefit of Mr. Galperin's children and parents and certain charitable organizations," according to the company's 2016 proxy. The trust was formed under New Zealand law as part of a 2012 estate planning transaction and controlled through a cross-border structure that includes a Swiss trustee, an Amsterdam-based foundation and a "protective committee" that has to approve the sale of any Galperin Trust shares.
Silicon Valley
MercadoLibre's origins are rooted in California's Silicon Valley, where Galperin studied during the dot-com boom of the 1990s. While at Stanford he once volunteered to drive John Muse, co-founder of private equity firm HM Capital Partners, to his private plane after the investor had delivered a speech at the business school. On the way to the airport he pitched Muse on MercadoLibre from the driver's seat, deliberately taking a wrong turn to secure a little more time before dropping him off at the terminal.
"He dropped his suitcase and said, 'I would like to be an investor,'" Galperin told Bloomberg in 2007.
Galperin started the company in a Buenos Aires garage that year, at the height of the dot-com bubble. Two years later EBay Inc. took a 20 percent stake and agreed not to compete in Latin America for at least five years. EBay remains the largest shareholder. A public listing followed in 2007 as MercadoLibre expanded into more and more markets. Co-founder and classmate Hernan Kazah, who held a 1.9 percent stake at the time of the company's 2007 listing, left in 2011 to set up venture capital firm Kaszek Ventures.
'Mystery Man'
Even as MercadoLibre has attracted Macri's attention, Galperin remains an elusive figure in his home country as well as at prominent events, such as the Allen & Co. technology and media conference in Sun Valley, Idaho, which he attended in July.
"He's a bit of a mystery man," Besserman said. "He does a lot on the sidelines and in the background."
MercadoLibre has caught the attention, however, of Argentina's tax authority, which is reviewing its use of a tax credit provided to software companies. The company says it's not the only firm facing inspections, that it has met all legal conditions and is a legitimate beneficiary.
Argentine Anchor
MercadoLibre is benefiting from the growing numbers of internet users across Latin America, where digital buyers rose 11 percent to 116 million people in 2015, according to researcher eMarketer, lagging only Asia's 15 percent growth. Online sales in the region jumped 23 percent compared with 14 percent in North America and 13 percent in Western Europe.
"MercadoLibre's core business is performing really well," said Tom Champion, a New York-based internet analyst at Cowen and Co. "Economic and political instability in Brazil and Argentina has begun to moderate. It's potentially a great way to play emerging markets."
Its growth has also been an anchor for Argentina's tech scene, despite the still considerable political, institutional and economic instability that remain challenges for local entrepreneurs, according to researcher Global Entrepreneurship Monitor. Since Macri's election in November, his plans to reverse populist policies of his predecessor, Cristina Fernandez, has fueled investor optimism in South America's third-largest economy even as a recession deepened and consumer confidence declined.
Argentina represented 32 percent of MercadoLibre's revenue in the first half of 2016 and Brazil another 51 percent. Mexico is the third-largest market and represents 6.3 percent of revenue while 16 other countries, including Chile, Ecuador and Bolivia, make up the balance.
Volatile Economies

That reach helps to tame the volatility that's historically plagued Latin America. MercadoLibre has significant operations in inflation-wracked Venezuela where an economic collapse has led many corporations to flee. The country has contributed just 5.5 percent of sales in the first half of 2016, down from 15 percent in 2013 when oil was trading at more than double today's price. The decline led the business to write down $14 million of assets and record a $4.9 million foreign exchange loss related to the bolivar's slide.
The company is looking to expand beyond e-commerce, including a payment solutions unit, MercadoPago, and a delivery business, MercadoEnvios, both of which are now among its fastest-growing businesses, said Stelleo Tolda, another Stanford alumnus who heads the company's Brazilian operations.
"In some ways we're indifferent to macroeconomics because a lot of people who never bought computers are coming online," Tolda said in an interview at the company's Sao Paulo office. "We've been a net gainer from people coming on mobile phones and leapfrogging the desktop."
(
Updates with details on Argentine economy in 16th paragraph.
)
Before it's here, it's on the Bloomberg Terminal.
LEARN MORE