Billionaire Ambani's Son Appointed as Director in Step Toward Succession
by
Anmol Ambani approved as executive director at Reliance unit

First board spot for 24-year-old seen as successor to founder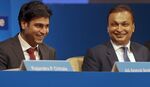 Shareholders at Reliance Capital Ltd. approved the appointment of Jai Anmol Ambani as an executive director Tuesday, grooming a prospective heir to his billionaire father at parent Reliance Anil Dhirubhai Ambani Group.
Anmol, the older son of 57-year-old Reliance Chairman Anil Ambani, was appointed as an additional director by the board in August. A majority of institutional investors, which control about 27 percent of Reliance Capital shares, voted against the resolution to appoint Anmol to the board, according to the exchange filing released Wednesday.
As India's richest men start to reach their 60s and beyond, succession questions about the next generation of tycoons are emerging in industries still dominated by family-run enterprises. Anmol's cousins Isha and Akash, the 24-year-old twin brother-and-sister scions of India's richest man, Mukesh Ambani, 59, are already members of the boards of India's newest mobile carrier, Reliance Jio Infocomm Ltd., as well as Reliance Retail Ventures Ltd.
"Across the board at family run businesses, the next generation is stepping up and groups are transitioning to the next generation," Sanjiv Bhasin, executive vice president at brokerage India infoline Ltd., said in a telephone interview. "Anmol Ambani will now learn the ropes as he prepares to succeed his father."
Reliance Capital, which runs India's third-biggest mutual fund, will pay Anmol, 24, a salary of 12 million rupees a year ($180,000) as well as perquisites and allowances, and a commission based on profit, it said in a stock exchange filing.
Anmol, who holds an undergraduate degree in management from the Warwick Business School in the U.K., has two years of experience in financial services, according to the filing. He will be an executive director along with Chief Executive Officer Soumen Ghosh.
Before it's here, it's on the Bloomberg Terminal.
LEARN MORE