Five Things You Need to Know to Start Your Day
Get caught up on what's moving markets.
by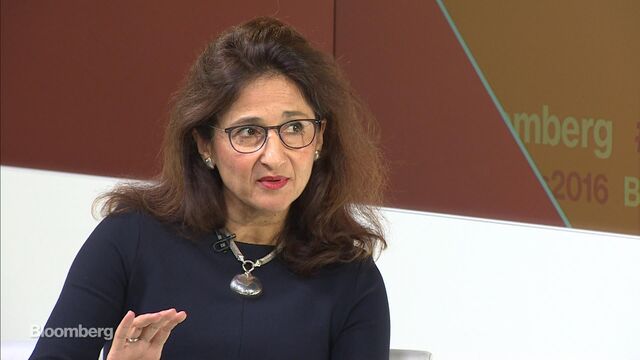 Want to receive this post in your inbox every morning? Sign up here.
Oil talks begin in Algiers, further easing is likely at the Bank of England, and Draghi is set to face his biggest critics. Here are some of the things people in markets are talking about today.
Oil talks
West Texas Intermediate crude remains below $45 a barrel as OPEC members begin their talks in Algiers today. Iran's oil minister said ahead of the meeting that his country is unwilling to freeze production at current levels and has no intention of reaching an accord this week, but hinted that an agreement could be struck at the next OPEC meeting that's taking place in Vienna this November. Saudi Oil Minister Khalid Al-Falih echoed the Iranian position on a November deal, saying his country would be a "willing partner" in a freeze agreement. The Russian ruble dropped this morning as the prospect of lower-for-longer oil prices increased concerns for growth prospects in that country which receives about half of its budget revenue from oil and gas sales.
Bank of England easing
Bank of England Deputy Governor Minouche Shafik, in a speech at the Bloomberg Markets Most Influential Summit in London on Wednesday, said that more easing would probably be needed for the U.K. following the Brexit vote. While latest figures on consumer confidence show some recovery from the post-vote drop, the pound is still showing little sign of improvement as it is set for its longest run of quarterly losses since 1984. 
Draghi, Yellen to face lawmakers
European Central Bank President Mario Draghi is set to face some of his biggest critics today when he answers questions from lawmakers in the lower house of the German parliament. In the four years since Draghi last met German lawmakers, dissatisfaction with the ECB's easing policies has grown in Europe's largest economy, with the country's finance minister urging members of parliament to go tough on the ECB president. At 10 a.m. ET, Fed Chair Janet Yellen is due to testify before the House Financial Services Committee, with speeches from regional Fed chiefs Charles Evans and James Bullard also planned.
Markets recover
Overnight, the MSCI Asia Pacific Index declined 0.9 percent, with Japan's Topix index dropping 1.4 percent as more than half of the companies on the benchmark went ex-dividend. In Europe, the Stoxx 600 Index had risen by 0.6 percent by 6:16 a.m. ET as investors start to view the recent selloff as overdone. S&P 500 futures were broadly unchanged ahead of durable goods orders, due at 8:30 a.m. ET.
Deutsche Bank bounce
Shares in troubled German lender Deutsche Bank AG are staging a rally this morning, gaining 1.9 percent by 6:20 a.m. following reassurances from CEO John Cryan that the bank would not need to raise new capital and the the agreement by the bank to sell its U.K. insurance business for 935 million euros ($1.2 billion). The problems at the bank, coupled with those at carmaker Volkswagen AG, are so large that they now risk undermining the German economy, which has been the driver of European economic growth for some time.  
What we've been reading 
This is what's caught our eye over the last 24 hours.
Before it's here, it's on the Bloomberg Terminal.
LEARN MORE