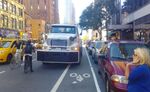 A huge Ryder truck unloading "Dunkin Doughnuts" for about an hour. A Chevy pick-up driver "leaving the door open in the lane" for several minutes. A car service that uses a bike lane "as their parking lot."
These are some of the allegedly guilty parties blocking cycle paths in New York, as displayed on the crowd-sourced public-shaming map Cars In Bike Lanes.
The map invites cyclists who see motorists parked or idling in bike lanes to snap a photo and send it in, where it'll be geolocated, time-stamped, and sometimes annotated with a comment like "Complete logjam all at this twerp's convenience." Here's more from its "About" section:
This site is by no means a replacement for 311, holding your elected representatives accountable, or talking to your friends and family. But it will hopefully become a cathartic and productive body of evidence to help convince the public and city hall that not nearly enough is being done to promote and protect cycling in NYC.
The site is run by Nathan Rosenquist, a "systems administrator and cyclist" who's P.O.'ed about local politicians supposedly dragging their feet on enforcing bike safety, according to Gothamist:
Rosenquist was especially alarmed that Mayor de Blasio, despite being the architect of Vision Zero, went on the Brian Lehrer show recently and excused drivers who briefly double park in bike lanes. "I don't think he understands that it takes a lot less time to be killed on a bike than it takes to let the kids off at home," Rosenquist said.
The map is supposed to function as a public record of drivers behaving badly, but it functions equally well as a record of frustration in New York's cycling community. "I'm sure he was only waiting here for a minute," writes one person. "You know, only enough time for me to die 60 times over." Chimes another: "The reason the guy in the white shirt had to park his car in the bike lane right below the busy Fulton St. intersection? Hot dog break."
To date there have been more than 350 submissions featuring cars, taxis, cop cars, moving trucks, package deliverers like UPS and FedEx, a person just standing and chatting on a cell phones, a truck hauling a load of flammable gas, and even a school bus. The site is open source, so don't be surprised to see a version pop up in a city near you.