Yen Drops as Traders Give First Round to Clinton; Peso Rebounds
by
Traders say Clinton outperformed Trump, stoking risk appetite

Japanese currency weakened from one-month high versus dollar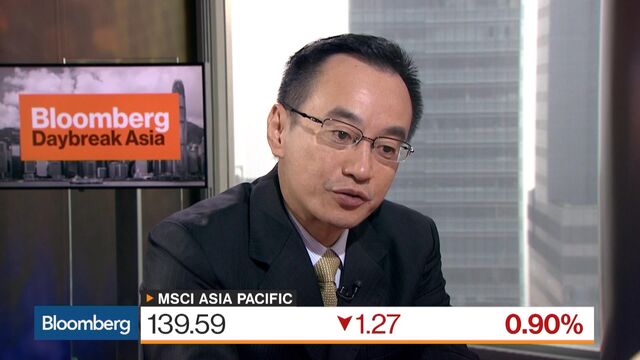 The yen fell from a one-month high and Mexico's peso surged as demand for havens declined as the first U.S. presidential debate between Hillary Clinton and Donald Trump.
Japan's currency weakened against all 16 of its major counterparts as a CNN/ORC poll showed 62 percent of viewers said Clinton won the contest, compared with 27 percent who judged Trump the victor. A Bloomberg Politics poll ahead of the event had the candidates deadlocked, clouding the outlook for U.S. policy. The peso climbed against all its major peers, rebounding from a record low.
"The odds on Trump winning have lengthened since the debate started," said Ray Attrill, global co-head of foreign-exchange strategy at National Australia Bank Ltd. in Sydney. "That is showing up most noticeably in a stronger Mexican peso and weaker yen."
The yen dropped 0.5 percent to 100.86 per dollar as of 7:03 a.m. in London on Tuesday. It earlier touched 100.09, the strongest level since Aug. 26. The currency is regarded as a haven because of Japan's current-account surplus.
Mexico's peso jumped 1.6 percent to 19.5582 per dollar, set for its best performance in more than two months, after falling to a record 19.9333.
Canada's loonie advanced 0.4 percent to C$1.3181 versus the greenback. It had declined earlier after Bank of Canada Governor Stephen Poloz said the economy needs three-to-five years to restructure following the oil shock.

"Judging by the moves in foreign exchange -- the Mexican peso and the Canadian dollar -- it would appear the Trump discount is falling," said Sue Trinh, Royal Bank of Canada's Hong Kong-based head of Asian foreign-exchange strategy.
The U.S. presidential candidates leveled sharp and personal charges and counter-charges over trade, the U.S. economy, race and foreign policy in their first face-to-face debate, an event that put on display their starkly different personalities and visions of the nation's future.
The event marked the first time that voters got to see the major-party nominees on the same stage for an event that promised to be a pivotal moment in a close and bitterly fought contest.
'Bullish Risk'
"Hillary looks the stronger of the two," said Simon Pianfetti, a senior manager at the market solutions department at SMBC Trust Bank Ltd. in Tokyo. "This is bullish risk, and yen negative."
Clinton, a former Secretary of State in Barack Obama's administration, is likely to offer more continuity with the current regime. Trump, a real-estate developer and former TV personality, is a less conventional candidate, and has been a vocal critic of the current president.
"The market was risk-off prior to the debate, but it has turned risk-on now," said Ha Jun-Woo, a currency trader at Daegu Bank in Seoul. "There is the sense that Hillary Clinton is performing better in the debate -- she certainly is more eloquent."
Before it's here, it's on the Bloomberg Terminal.
LEARN MORE