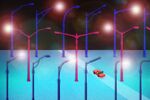 For many neighborhoods across the U.S., streetlights are reminders of the nation's aging infrastructure. Some have been around for decades, which means frequent breakdowns due to outdated technology that can cost cities millions—money that isn't always in the budget. The result: slow response times for outages and repairs that have left residents in the dark for weeks, months, and even years.  
Cities have gradually started replacing high-pressure lightbulbs with the more energy-efficient and lower-maintenance LED alternatives, but as a team of MIT researchers argue, it's not only the bulbs that are outdated. "Oddly, the science of streetlight placement is relatively primitive today, and the means to monitor how much light reaches the street are very limited," Sumeet Kumar, a graduate of MIT, and his colleagues wrote in a recent paper published in the IEEE Sensors Journal.
Many cities still manually inspect streetlights, sometimes scheduling a person to drive around the city to take notes. But between the manual labor and gas needed, these can be costly inspection runs. In other cases, a street lamp might only catch the city's attention after a complaint has been filed. This, in part, explains why there's very little detailed data generated about streetlights, Kumar tells CityLab. "It's immensely manual-labor intensive, and it may take many months to compile data for a few neighborhoods with reliable accuracy."

So Kumar—now a data scientist at Facebook—and his team came have come up with a new way to map streetlights, one that takes a cue from Google's fleet of Street View cars. With funding from a Spanish infrastructure company Ferrovial, they've developed a set of sensors that can be mounted on top of vehicles that routinely drive around the city at night, such as police cars and garbage trucks.
At the same time that these sensors are measuring the illumination levels on the streets and the height of each streetlamp, GPS is also locating each pole and gathering the data into a map to help city officials visualize the areas that need repairs or level adjustments. Machine-learning would help the sensors distinguish between streetlights and background light from sources like windows. Kumar says they've tested the system in four cities so far, including Boston, Birmingham in the U.K., and two cities in Spain.
Coming up with a system such as this is just one part of the challenge; turning that research into an actual product is another. The technology and "building blocks" are out there, Kumar says. But getting cities to become willing test drivers and investors requires generating interest around an issue that is rarely considered high on a city's list of priorities. "City street-lighting is one of the biggest bills that the government receives," he says. "So they're not very proactive in replacing lights."
In 1980s Indianapolis, for example, the city's mayor put a ban on new streetlights to save money amid increasing energy costs. It would take 35 years, nearly 10,000 complaints of broken streetlights annually, and hundreds of related pedestrian deaths before the city government finally agreed to install just 100 new street lamps—despite having enough money for 1,000, according to a detailed investigation by local newspaper IndyStar.
But Kumar hopes there will be more excitement around these kinds of smart city initiatives, especially as research makes it easier and cheaper for governments to accurately identify their issues. So instead of fixing all the streetlights at once, they can budget and prioritize repairs for the most dangerous intersections.
"It's a hot topic of discussion because our cities are getting old," Kumar says, "and there are constantly more people moving in."