U.S. ELECTION WRAP: Trump's Post-Debate Appeal Is Next Big Test
Donald Trump's first head-to-head debate against Hillary Clinton drew a raft of less-than-stellar reviews. Will the GOP nominee see his poll numbers shift or will he once again confound political expectations?
By and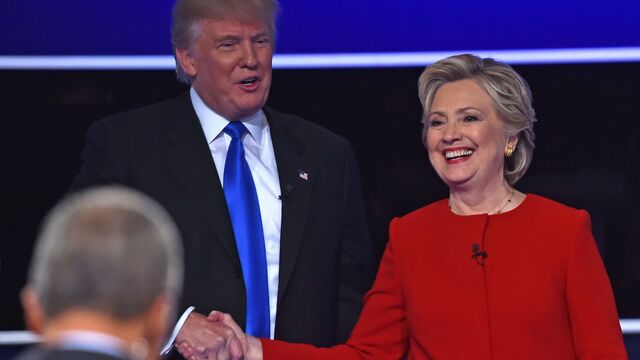 One day ago, Donald Trump was enjoying his strongest-ever position in a key election forecast. Today, the question is just how much his less-than-stellar debate performance may sink his presidential prospects.
Hillary Clinton won Monday night's debate, meaning she will probably rise in polls, FiveThirtyEight's Nate Silver wrote
FiveThirtyEight yesterday gave Trump a 46% chance of winning the White House, his best showing ever based on a "polls-plus" forecast, which takes the economy and historical data into account along with polling numbers
A slew of post-debate indicators now suggest a Clinton victory, but if she doesn't improve in polls, or they move toward Trump, then that "ought to be scary for Democrats, obviously": Silver
National Review's Jim Geraghty, in a flippant nod to Trump's knack for confounding expectations, wrote Monday that it was "a terrible night for Donald Trump, so he'll probably surge in the polls"

If the debate doesn't reverse the polls for Clinton "what can?": Geraghty

As of Tuesday afternoon, FiveThirtyEight's polls-plus forecast showed Clinton with a 55.2% chance of winning vs. 44.7% for Trump
Trump's camp spent the post-debate morning trying to stem damage, Bloomberg's Elizabeth Titus and Toluse Olorunnipa wrote; the former reality-TV star allowed Clinton's comments to get under his skin, including her suggestion that his success stems from his father's money; see story here
Trump's lack of formal preparation was on "clear display last night," Aaron Kall, director of debate at University of Michigan and editor/contributor of the book Debating The Donald, said in interview

Trump was "severely winded by the end of the night, which is ironic given his earlier critique of Clinton's stamina": Kall
"Trump must engage in more formal and structured debate prep in the run up to the next two contests," Kall said

Trump told Fox News he got hostile debate questions while Clinton didn't; he also complained that his microphone was "terrible" and questioned whether it was deliberately set up that way
"Anybody who complains about the microphone is not having a good night," Clinton told reporters on her campaign plane, which she boarded amid cheers and applause from aides, including John Podesta and Huma Abedin
See Bloomberg story: How Clinton Beat Trump in Their First Debate, By the Numbers

DEBATE REACTIONS
Gains among the world's currencies imply that traders saw Clinton as victor in first presidential debate

Citigroup has said a Trump win in November could sink equities and warned this week it may also spur volatility in both gold and currency markets
Click here to read what Wall Street had to say about round one of Clinton vs. Trump

Clinton was seen as the debate winner by 62% of voters who tuned in to watch; 27% thought Trump won, CNN/ORC Poll found
Trump on Twitter said he won "every poll" on debate except for the survey by "little watched" CNN
Weekly Standard editor Bill Kristol said while Trump did "pretty well" in first 20 minutes of debate, he later got "rattled" as Clinton "beat him up pretty badly" on some issues
Trump "sniffled many times" while Clinton "didn't cough once," Kristol, a long-time Trump critic, said on a podcast
The GOP nominee told Fox News there were "no sniffles" and he doesn't have a cold
Clinton failed to deliver a "knock-out punch" to Trump during the debate, Trump campaign manager Kellyanne Conway said on MSNBC
Clinton campaign chairman John Podesta told Fox News he thought Trump was "unprepared and kind of fell apart, particularly toward the end of the debate"

Podesta said he's worried Trump may not show up for the next two debates
Trump later in Miami said "sure" when asked by reporters if he plans to participate in the two remaining debates

Steve Schmidt, senior adviser to 2008 GOP nominee John McCain, on MSNBC: Trump after ~45 minutes, was like an "old-man runner trying to get around the track. He just ran out of gas" and seemed exhausted, which gave way to "an almost incoherence"

Trump's answers became a "mountain of molten gibberish" as he went back and forth between nuclear weapons and comedian Rosie O'Donnell: Schmidt
2008 GOP VP nominee Sarah Palin "looked like Henry Kissinger" in her debate with Joe Biden compared to Trump, Schmidt said

Clinton surrogate and ex-Democratic Pa. Gov. Ed Rendell told MSNBC some of Trump's answers were politically "ludicrous," such as saying it was "smart" not to pay federal taxes
Clinton in debate baited Trump "beautifully," billionaire real-estate investor and Trump ally Tom Barrack said in interview with Bloomberg TV

Trump missed a lot of opportunities, according to Barrack, who supports the N.Y. business tycoon for president

House Speaker Paul Ryan said Trump and Clinton each met expectations in Monday night's debate

Trump gave a "spirited voice" to people who oppose status quo, Ryan told reporters

President Obama told "On Air with Ryan Seacrest" that the debate showed Trump "doesn't have the preparation, the temperament or the core values of inclusion and making everybody have opportunity that would take our country forward," CNN reported

Obama said he watched the debate from the Treaty Room in the White House

DEBATE AUDIENCE
More than 80 million people watched the Clinton-Trump debate, making it the most-watched debate ever, CNN reported

The prior ratings record for a debate was held by the 1980 Jimmy Carter-Ronald Reagan match-up, which drew 80 million viewers
NBC drew the biggest audience among broadcasters to the 1st Trump-Clinton showdown, attracting ~15.6 million viewers, followed by ABC with ~11.6 million, CBS with ~10 million and Fox in fourth place with ~5 million, according to release from Univision
The Spanish-language network drew ~2.2 million viewers; ratings are subject to revisions later
Nielsen plans to report total viewers, including those on cable news networks like CNN, Fox News and MSNBC as well as broadcaster PBS, later in the day

ON THE TRAIL
Clinton chose highly competitive N.C. as her first post-debate campaign stop

"One down, two to go," the former first lady told a crowd in Raleigh

Trump, in a visit to Miami's Little Havana neighborhood, called the debate an "interesting evening"; he's set to stump in Melbourne, Florida, tonight

ENDORSEMENTS
Former N.H. Governor John Sununu endorsed Trump

The GOP nominee is the "only candidate in this race who can bring bold change to Washington," according to statement issued by Trump campaign
Sununu served as chief of staff to President George H.W. Bush
Sununu previously called Trump "dumb' and argued he would ruin the Republican Party, Boston Globe reported
In Jan., Sununu wrote an op-ed in the N.H. Union Leader urging Republicans not to ''drink the Trump Kool-Aid"

ETC

CONGRESSIONAL ELECTIONS
SENATE RACES (Republicans hold 54-46 majority)
RACE RATINGS: University of Virginia's Center for Politics issued updated ratings that give four Republican senators a bigger advantage

Arizona, where John McCain is seeking re-election, now Likely Republican vs. Leans Republican; races of Chuck Grassley in Iowa, Johnny Isakson in Georgia, Rob Portman in Ohio now Safe Republican vs. Likely Republican
"Democrats now have an even narrower path to taking back the Senate," according to Center's analysis
AZ: Arizona Grassroots Action PAC, a super-PAC backing a sixth term for McCain, released TV ad attacking Democratic Rep. Ann Kirkpatrick for voting to approve Iran nuclear deal

Kirkpatrick "put loyalty to Obama before our troops," says a woman identified as wife of Navy veteran
Kirkpatrick said before vote that Iran deal "is not perfect" but "blocks Iran's path to a nuclear weapon, protects Israel and launches a historic diplomatic agreement"
IN: Senate Leadership Fund, a Republican super-PAC, in TV ad described Democratic ex-Sen. Evan Bayh as a lobbyist who "cashed in and left Indiana behind" after retiring from Senate six years ago

Bayh wasn't a registered federal lobbyist and served as a "strategic advisor" with McGuireWoods in Washington, according to bio on firm's web page; Republicans say that's a distinction without a difference
In Terre Haute Tribune Star op-ed, Bayh drew differences with Republican Rep. Todd Young on education and said a bipartisan approach to making college more affordable is "a fight I will bring to the U.S. Senate"
Bayh and Young in close race to succeed retiring Republican Sen. Dan Coats
LA: Republican Rep. John Fleming's campaign in TV ad described two GOP rivals, state Treasurer John Kennedy and Rep. Charles Boustany, as waging "junior high foodfight" while Fleming is "fighting the real enemy, Obama and Clinton"

Ad touts Fleming's leading role in seeking impeachment of IRS Commissioner John Koskinen, says he's "taken on Hillary" on abortion and gun policy, will work with Trump to combat illegal immigration and terrorism
Kennedy in TV ad said he sometimes thinks country is being "run by idiots" and is seeking Senate seat to "help small businesses and working families claw our way back"
There are 24 candidates from all parties running to succeed retiring Republican David Vitter, starting with Nov. 8 single-ballot primary; with no candidate likely to win a majority, Dec. 10 runoff between top two vote-getters is likely
MO: Democrat Jason Kander's campaign released TV ad highlighting lobbying background of Republican Sen. Roy Blunt's wife and children, with a small businessman asking "Why is he taking care of his family business, and not ours?"

Kander is Missouri's Secretary of State
NC: Republican Sen. Richard Burr's campaign released TV ad in which a female Marine Corps veteran who was sexually assaulted says Democrat Deborah Ross "opposed the North Carolina sex offender registry" and "wants to protect sexual predators over victims"

Senate Leadership Fund, which independently supports Burr, also aired TV ad saying Ross's "left-wing politics are good for criminals, not North Carolina families"
Ross's campaign in statement said Burr and his "Washington special interest friends have put out new and misleading ads to distract voters from Burr's record of putting himself and the special interests ahead of North Carolina"
NH: Republican Sen. Kelly Ayotte in TV ad says to camera that after "all the false negative ads" she's "still the Kelly Ayotte you know, and I'm still fighting for you"

Ayotte promoted her work on legislation related to pay equity, workplace discrimination, expanding access to contraception, expanding Medicare home health programs, mammography services
Democratic Gov. Maggie Hassan said on New Hampshire Public Radio that she opposes Trans-Pacific Partnership trade deal because "I don't think it protects workers well enough" and "I don't think it promotes American values or protects the environment well enough"
Granite State Solutions, a pro-Ayotte super-PAC funded in part by billionaire Sheldon Adelson, in TV ad attacked Hassan for supporting Iran nuclear deal and accused her of supporting so-called sanctuary cities that bar police from turning over undocumented immigrants to federal authorities

Hassan's campaign in statement said Ayotte's "corporate special interest backers" are "throwing the kitchen sink of false attack ads"; cited Nov. 2015 Politifact analysis that said Hassan in 2008 opposed bill that would have prohibited N.H. from serving as a ''sanctuary for illegal aliens'' but that ''there were no efforts to establish sanctuary cities in the state at the time, nor are there any efforts today"
PA: Democrat Katie McGinty's campaign released TV ad saying she "opposes any middle-class tax increase"

Ad says McGinty's support for two Democratic-sponsored bills that would expand tax credits for dependent care and education-related expenses tantamount to $6k tax cut
Pennsylvania GOP in statement said "Shady Katie" supported sales tax increases as top aide to Democratic Gov. Tom Wolf
Republican Sen. Pat Toomey's campaign released two TV ads, one that draws contrasts with McGinty on taxes, regulations and "sanctuary cities," and another that says she became a millionaire as a lobbyist and corporate board member
WI: Democratic ex-Sen. Russ Feingold's campaign aired TV ad saying Republican Sen. Ron Johnson "campaigned as a job creator" in 2010 but "helps companies ship jobs overseas" while CEOs like him get richer

Ad cites Johnson's vote in 2011 to implement U.S. free-trade agreement with South Korea; Senate cleared pact 83-15 with support from a majority of Democrats including Herb Kohl, who then held state's other Senate seat
Ad also cites Johnson's vote in 2015 to clear fast-track trade promotion authority bill for Obama's signature; Clinton running mate Tim Kaine among 13 Democrats who voted for TPA
HOUSE RACES (Republicans hold 246-186 majority)
RACE RATINGS: Center for Politics re-rated five contests, four in favor of Republicans

Republicans Reps. David Young of IA-03, Bruce Poliquin of ME-02, and Mia Love of UT-04 now in Leans Republican races vs. Toss-up; CA-24, held by retiring Democrat Lois Capps, now Leans Democratic vs. Likely Democratic; and NY-03, held by retiring Democrat Steve Israel, now Leans Democratic vs. Toss-up
Unless there is a dramatic reversal in the presidential race — a total collapse by Trump that at this point seems highly unlikely — the Democrats' path to winning back the House majority, always just a small possibility, is nearly closed,'' according to the Center's analysis
CA-25: Republican Rep. Steve Knight wants to delay Labor Dept overtime rules he says are a "major threat to our small business community," while Democratic challenger Bryan Caforio suggested Knight's effort "may be both political posturing and bad public policy," Ventura County Star reported

District includes parts of Los Angeles and Ventura counties and voted 50%-48% for Mitt Romney over Obama in 2012, though Democrats now have small voter registration advantage over GOP
CA-49: Republican Rep. Darrell Issa's campaign released two TV ads, including one that links Democratic challenger Doug Applegate to House Minority Leader Nancy Pelosi and says he supports higher taxes

Issa's other ad highlights his office's responsiveness to constituents' requests, including his work to expedite the delivery of veterans' benefits
Issa seeking 9th term against Applegate, a retired Marine Corps colonel, in mildly Republican-leaning district that includes parts of Orange and San Diego Counties
FL-13: Republican Rep. David Jolly and Democratic ex-Gov. Charlie Crist "continued the attacks" from a debate last week but showed in separate editorial board interviews that "not much separates them on major issues" like Cuba embargo and expanding gun-background checks, Tampa Bay Times reported
NV-03: Democrat Jacky Rosen's first TV ad is a biographical spot "highlighting her experience as a computer programmer and leader of a Henderson synagogue," Las Vegas Sun reported

Rosen opposed by Republican businessman Danny Tarkanian for competitive Clark County district now held by Republican Joe Heck, who's running for Senate
NY: National Rifle Association gave "A" grades to Republican Reps. Lee Zeldin in NY-01, Elise Stefanik in NY-21, Tom Reed in NY-23, and John Katko in NY-24, according to State of Politics blog

The Democratic challengers are Anna Throne-Holst in NY-01, Mike Derrick in NY-21, John Plumb in NY-23, and Colleen Deacon in NY-24; Cook Political Report rates NY-01 and NY-24 as Toss-ups, NY-23 as Lean Republican, NY-21 as Likely Republican
NY-22: Democrat Kim Myers, Republican Claudia Tenney, and independent Martin Babinec will debate tonight in event sponsored by Herkimer County Chamber of Commerce, Utica Observer-Dispatch reported

The candidates are seeking to succeed retiring Republican Rep. Richard Hanna in competitive district that includes Utica, Binghamton
PA-08: Republican Brian Fitzpatrick in TV ad said he knows after 14 years as FBI agent and federal prosecutor that "Washington's not doing enough" to stem drug abuse, including heroin overdose crisis

Fitzpatrick said action needed "right now" to impose tougher sentences for heroin dealers and secure more funding for drug education and treatment for addicts
Fitzpatrick seeking to succeed his brother, retiring GOP Rep. Mike Fitzpatrick, in competitive district where most people live in Bucks County outside Philadelphia; Democratic nominee is state Rep. Steve Santarsiero