U.K. Needs to Open Brexit Talks Before April, Moscovici Says
by
Europe's economics commissioner says investors need certainty

Prime Minister May hasn't said when she will activate clause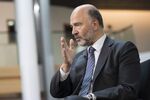 U.K. Prime Minister Theresa May needs to trigger the start of negotiations on the country's exit from the European Union before the end of March, the EU's economics commissioner said in the strongest indication yet of what the bloc considers acceptable timing.
Any wait beyond the first quarter of 2017 "might be too long," Pierre Moscovici said on Tuesday in Brussels.
While Britain voted for Brexit in June, formal talks with the 27 other EU members can't begin until the prime minister activates Article 50 of the bloc's Lisbon Treaty, which would set in motion two years of discussions about the terms of departure. May has limited herself to saying she won't trigger Article 50 before the end of this year.
"Let's not take too much time because uncertainty is the worst enemy of the economy and if at one moment there is reluctance, there is no certainty, there is no predictability; then investors could start being very anxious," Moscovici told an audience at an event organized by Politico.
Article 50
While many in the EU have called for the U.K. to trigger Article 50 as soon as possible, the British government has so far declined to set out a time frame. It is for Britain alone to decide when -- or indeed if -- to activate the exit clause. While the EU cannot set a deadline, leaders have signaled that any prolonged wait could harm Britain's chances in the negotiations.
U.K. Foreign Secretary Boris Johnson suggested on Sunday that the government will formally trigger an exit by May of next year, telling the BBC that "we can't let the process drag on." May's office slapped down Johnson last week by refusing to endorse his earlier comments in a Sky News TV interview that Brexit talks would probably start in "the early part of next year."
While Johnson declined to be more specific on the timing in Sunday's interview, he hinted that it should happen before May to avoid Britain still being an EU member at the time of the next elections for the European Parliament, which are due to take place in May or June 2019.
Earlier this month, EU President Donald Tusk said he had been told by the U.K. prime minister that Britain is likely to trigger formal Brexit talks in January or February.
More Clarity
Companies and investors have urged the government to provide more clarity on Brexit and its timing so that they can make business decisions that will depend on the nature of Britain's eventual trading relationship with its closest neighbors.
The chiefs of several big U.S. banks and corporations have warned May that they'll begin shifting operations to continental Europe without clarity on that future relationship, the Sunday Telegraph newspaper reported, citing an account of a meeting in New York last week between May and companies including Goldman Sachs Group Inc., Morgan Stanley and BlackRock Inc.
Moscovici said there could be a negative impact on the economies of the U.K. and the EU, depending on the "rhythm and spirit" of negotiations and how long May waits to activate Article 50.
"Let's not wait for too long," Moscovici said, adding that it was for the U.K. to make the decision. "I think they're wise enough to judge when the time comes."
Before it's here, it's on the Bloomberg Terminal.
LEARN MORE