U.K. Needs Brexit Flexibility for EU Market Access, Romania Says
By
Deputy foreign minister worried for Romanian citizens in U.K.

Britain urged to decide what relations it wants with EU
The U.K. will have to be flexible with its labor demands and must agree to contribute cash to the European Union if it wants to maintain some access to the bloc's free-trade zone, according to the Romanian official in charge of Brexit negotiations.
"If they want to keep a certain degree of access to the single market, based on the model of Switzerland or Norway, they'll have to pay certain costs," Deputy Foreign Minister Cristian Badescu said. "Access of EU citizens to the U.K. labor market is one of them. They'll also have to pay certain funds."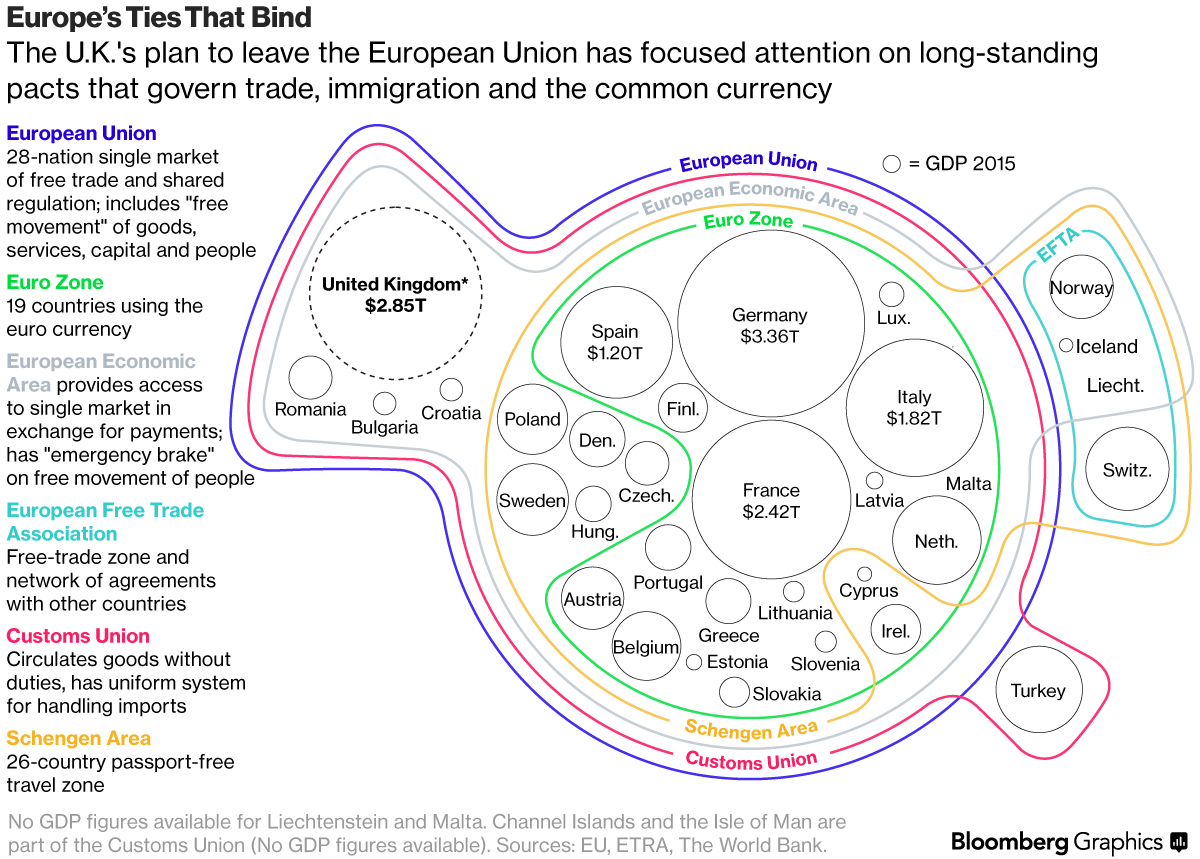 Speaking Monday in a phone interview, Badescu said debates on these matters must be "reasonable for both sides." Most important for Romania is the fate of more than 220,000 of its citizens residing in Britain, according to the official.
The U.K. is facing the increasing likelihood that any immigration curbs it demands as part of its departure from the EU will result in reduced access to its biggest export market. The fate of Brexit negotiations is key to eastern European countries, particularly Poland and Romania, which have the largest communities of citizens living and working in the U.K. and rely on EU development funds to help them catch up with western living standards.
'Longer-Term Vision'
Europe is waiting for Prime Minister Theresa May to trigger the start of formal exit talks with the remaining 27 member states. That will happen by May 2017, Foreign Secretary Boris Johnson suggested Sunday.
"They must first of all say what kind of relationship they wish to have with the EU in the future," Badescu said. "They have to have a longer-term vision."
The pound has approached its weakest level in three years against the euro amid speculation that support in the British government is building for a so-called hard Brexit. Investor concern is growing that the U.K. would surrender access to the EU's single market in return for securing control over immigration and being exempt from paying into the bloc's budget.
"The entire process will be extremely complicated," Badescu said. "We want to prevent any kind of discrimination among member states, even if we're new or old member states. But until any kind of official talk, the U.K. has to decide on a plan and, at this point, it doesn't seem they have."
— With assistance by Irina Vilcu
Before it's here, it's on the Bloomberg Terminal.
LEARN MORE