Trump's Debate Assertions on NYC Crime Don't Jibe With the Stats
By
NYC homicides and shootings fell with reduced stop-and-frisks

Republican candidate insisted murders have increased in NYC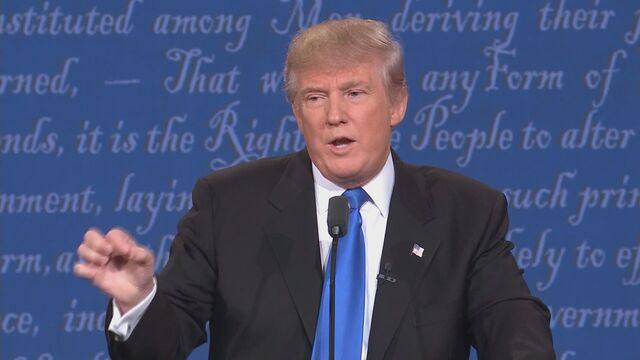 Republican presidential candidate Donald Trump got it wrong during Monday night's presidential debate when he credited stop-and-frisk police tactics for New York's two-decade trend of lower crime, and asserted that murders increased in the two years since the city curtailed the practice.
NYPD statistics show the city where Trump lives has recorded 246 homicides as of Sept. 18, down from 257 at the same time last year, which ended with 352 murders. The record low was 333 in 2014.
Shootings in the most populous U.S. city also declined 12 percent since 2015, when Democratic Mayor Bill de Blasio and former Police Commissioner Bill Bratton ordered stop-and-frisk reduced. The department will conduct about 20,000 this year, down from a high of 685,000 in 2011.
"Stop-and-frisk had a tremendous impact on the safety of New York City," Trump said, differing with his adversary, Democrat Hillary Clinton, who described the practice as ineffective and causing division between police and minorities. "Tremendous beyond belief. So when you say it has no impact, it really did. It had a very, very big impact."
In trying to buttress his argument, Trump made a mid-debate mention of one of his top supporters, crediting former New York Mayor Rudolph Giuliani with instituting the practice upon taking office in 1994. Yet he misstated the statistics in saying, "we had 2,200 murders, and stop-and-frisk brought it down to 500" during Giuliani's two terms ending in 2001.
Truth Police
In fact, homicides declined from 1,927 to 649 in that span, and had started to drop during the administration of Giuliani's Democratic predecessor, David Dinkins. The city's first and only black mayor, Dinkins pushed through a temporary tax hike to increase the headcount in the largest U.S. police department to above 35,000. Under Dinkins, homicides dropped 15 percent from 2,262 in 1990 to 1,927 by the end of 1993.
Trump even had complimentary words for Giuliani's successor, former Mayor Michael Bloomberg. Bloomberg, who is founder and majority owner of Bloomberg News parent Bloomberg LP, endorsed Clinton at the Democratic National Convention. His police commissioner, Raymond Kelly, whom Dinkins had also hired, promoted stop-and-frisk as an anti-gun policy. As the number of stops escalated, the practice drew protests in minority communities.
Fact Check
Even as Bloomberg and Kelly defended the practice and said it had led to 12 consecutive years of decreased crime, they cut its use by about 72 percent from its 2011 peak to 2013. That year, U.S. District Judge Shira Scheindlin ruled that the practice had unlawfully targeted minorities and she ordered appointment of an independent monitor to oversee the Police Department.
Her ruling coincided with the rise in the polls of de Blasio, a relatively obscure candidate in a field of seven seeking the Democratic mayoral nomination, who had made opposition to stop-and-frisk one of the central themes of his campaign. That November de Blasio won election by the largest margin of any non-incumbent in city history.
When Trump made similar comments praising stop-and-frisk tactics last week, de Blasio held an impromptu City Hall meeting with reporters to denounce the Republican, saying he was "either ignorant of the history of the city or he's lying about it."
The mayor, whose name wasn't mentioned in the debate, argued that police would be more effective fighting crime by building relations and trust between themselves and the neighborhoods they patrol. Stop-and-frisk tactics, he said, did more harm when they weren't targeted toward specific suspicious behaviors.