Trump Migrant Rhetoric Gives Surprise Boost to One Latin Nation
By
Guatemalans living abroad to send home $7 billion this year

Central bank interim president Recinos comments in interview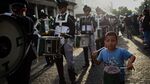 The possibility that Donald Trump will win the U.S. presidency may be scaring Mexico, but it appears to be giving the economy of neighboring Guatemala an unexpected boost this year.

Remittances, a mainstay of Guatemala's economy, are surging as migrants living in the U.S. send home extra money in fear of deportation should the billionaire win the November election, central bank Interim President Sergio Recinos said in an interview. The inflows will rise 12 percent to 14 percent this year to a record $7 billion, he said from his office in Guatemala City.
"One hypothesis is that the issue of candidate Trump has alerted migrants and they are sending back remittances in advance," Recinos said. Migrants fear that Trump "could return them, deport them. They are saving in advance."
Remittances account for as much as 11 percent of Guatemala's gross domestic product, the bulk of the money coming from the U.S., which is home to more than a million people of Guatemalan origin. Guatemala's economy will grow by between 3.1 percent and 3.7 percent this year and 3.1 percent to 3.9 percent in 2017, led by banking as inflows bolster the financial services sector, according to Recinos.
Remittances are also rising in Mexico, though uncertainty over trade ties under a Trump presidency is damping investor sentiment in Guatemala's northern neighbor. Trump, who has advocated building a wall along the U.S.-Mexico border, reiterated his call for a "strong border" in a debate Monday night.
A poll by CNN showed that that 62 percent of voters who watched said Trump's opponent Hillary Clinton won the debate compared to 27 percent for Trump, boosting the Mexican peso and U.S. stocks.
Foreign direct investment will rebound in Guatemala to $1.3 billion this year and $1.4 billion next year after a decline in 2015 amid a political crisis that saw the president, vice-president and central bank chief jailed over their alleged involvement in corruption scandals, Recinos forecast.
Before it's here, it's on the Bloomberg Terminal.
LEARN MORE