Treasury 30-Year Rally Has Yields Set for September Round-Trip
By
Gains after Fed, BOJ meetings pare losses seen in wake of ECB

U.S. long bonds buoyed by yield advantage over Germany, Japan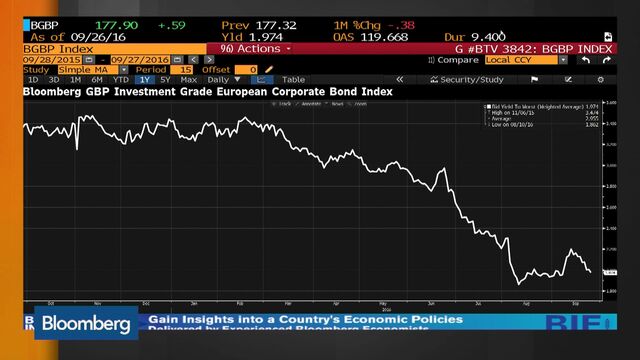 After enduring a mid-month selloff and three central bank meetings, Treasury 30-year bonds are poised to end September about where they started amid tame outlooks for inflation and global monetary policy.
U.S. 30-year yields fell Tuesday for the sixth day in the past eight since touching the highest level this month on Sept. 15. After recording their worst two-day loss in more than a year following the European Central Bank's Sept. 8 decision not to expand its stimulus program, the securities have surged as the Bank of Japan signaled continued accommodative policy and the Federal Reserve pared projections for the path of interest rates.

"If you didn't do anything this month, you missed nothing," said Justin Lederer, an interest-rate strategist in New York at Cantor Fitzgerald, one of 23 primary dealers that trade with the Fed. The demand for longer-dated securities was driven by the "need for yield, need for duration. When you look at yields across the world, the U.S. looks 'cheap.'"
While yields on shorter-dated securities have risen during the third quarter, Treasury 30-year yields are nearly unchanged from the end of June. Long bonds have been buoyed by investors seeking yield against a backdrop of even lower rates abroad, with Treasury 30-year yields higher than those offered by comparable German bunds or Japanese government bonds.
Treasury 30-year yields fell four basis points, or 0.04 percentage point, to 2.28 percent Tuesday. That's up from 2.23 percent on Aug. 31 and unchanged from June 30. The price of the 2.25 percent security due in August 2046 was 99 13/32. The yield climbed as high as 2.5 percent Sept. 15. 
By comparison, German 30-year bunds yielded 0.42 percent Tuesday and 30-year Japanese government bonds yielded 0.5 percent.
Before it's here, it's on the Bloomberg Terminal.
LEARN MORE