Saudis and Iran Must Bridge 600,000 Barrel Gap for OPEC Deal
by , , and
Algiers meeting comes as IEA says market outlook is worsening

First discussion of country output targets in over two years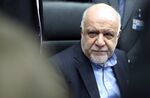 Saudi Arabia and Iran have just two months to resolve a 600,000 barrel a day difference over production limits if they want to secure an agreement that could prevent another year of oversupply on the oil market.
The gap, more than the daily production of fellow OPEC member Ecuador, shows how much work remains before the group can replace the pump-at-will policy adopted in 2014 that upended the oil market, shaking investors, corporations and entire economies. The stakes remain high as the International Energy Agency predicts a worsening oil market if OPEC doesn't act.
"It's not our agenda to reach agreement in these two days," Iran Oil Minister Bijan Namdar Zanganeh said on Tuesday, adding that he was in Algiers "to have a consultative informal meeting with OPEC to exchange views, not more." He said later that he hadn't discussed any deal with Saudi Arabia on Tuesday.
Still, the mere fact there are numbers on the table before OPEC's formal meeting in Vienna in November shows that Saudi Arabia and Iran are closer to a deal than any time in the last two years. While Tehran wants to set its production target at about 4.2 million barrels per day, Riyadh is asking its regional rival to freeze its output at 3.6 million barrels per day in return for a production cut.
At stake isn't just current oil output levels, but a mix of Middle East politics and domestic pride that have over decades made the allocation of individual ceilings for each member of the Organization of Petroleum Exporting Countries the most difficult issue the group has to deal with. OPEC has in the past needed many months of behind-the-scenes diplomatic talks to resolve previous battles.
"There definitely seems to be a bigger push towards achieving some co-ordination amongst members this time around, so even if there is no concrete deal in Algeria, this isn't over yet," said Amrita Sen at consultant Energy Aspects Ltd. in London. "The door remains open for further negotiations and a possible deal at the Nov. 30 OPEC meeting in Vienna."

Whether Saudi Arabia and Iran can narrow the gap, will determine the fate of the oil market and industry in 2017. The stakes are high: the head of the International Energy Agency said on Tuesday that oil supply will exceed demand until late next year.
"We don't see the oil market re-balancing until late 2017" unless there's a "major intervention," IEA Executive Director Fatih Birol said in Algiers.
Goldman Sachs, the biggest Wall Street bank in commodities, added to the pessimism, saying in a report to clients on Tuesday that the near-term oil "supply-demand balance is weaker than previously expected." The bank lowered its price forecast for New York oil futures for the fourth quarter to $43 a barrel, down from $50 a barrel.
To read a QuickTake on oil prices, click here
As OPEC ministers gathered in Algiers, they only agreed that oil prices weren't high enough.
"Today we find ourselves below $50 and uncertain about future demand or prices," said Khalid Al-Falih, who took over as Saudi oil minister this year. "Many energy companies and countries for that matter are facing significant financial distress from current downturn."
Still, the history of OPEC shows why returning to individual production ceilings is likely to prove arduous, even if most countries signal their desire to reach a deal to end the downturn.
The oil producers' club hasn't published individual targets for its members since October 2006, when the organization set a quota for Iran of 4.1 million barrels and one for Saudi Arabia of 9.1 million barrels. A decade later, Riyadh is offering a deal that, in effect, would give official stamp to its current production of more than 10 million barrels, while forcing Tehran to accept a target below 4 million barrels.
To read a story on Saudi Arabia and Iran's economies, click here
The discussion is more complicated because four countries have either joined or re-joined OPEC -- Angola, Ecuador, Indonesia and Gabon -- since 2006. Moreover, Iraq has been exempt from national ceilings since 1991 because the country was given an exemption while it recovered from years of wars and sanctions.
"None of the current scenarios seem plausible," said Seth Kleinman, oil analyst at Citigroup Inc. in London, adding that Saudi Arabia and Iran are discussing what amounts to a direct trade-off between their own market shares.
"Trying to sell this to the domestic governments, monarchies and leaders of both nations would likely prove almost impossible," he said in a note to clients.
Before it's here, it's on the Bloomberg Terminal.
LEARN MORE