Oil Soars on OPEC Plan to Cut Output, Fueling Stocks; Bonds Fall
By
Currencies of Canada to Brazil drive gains versus dollar

Most Asian index futures climb as energy boosts S&P 500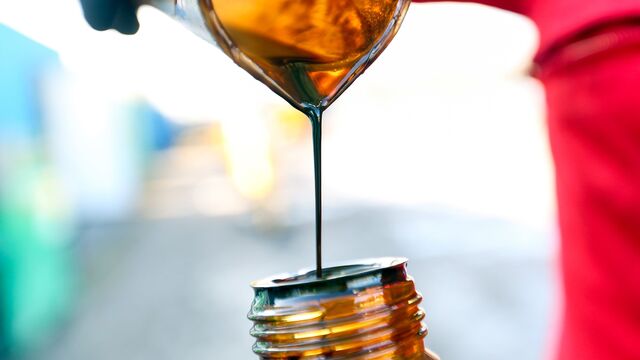 Oil surged the most since April as OPEC agreed to a preliminary deal that will trim output for the first time in eight years. Stocks climbed, while Treasuries fell.
The rally in crude reverberated across global markets as companies from Exxon Mobil Corp. to Chevron Corp. soared while currencies of oil-exporting nations like Norway and Canada led gains against the dollar. Meanwhile, Treasuries slid on concern that a potential surge in the value of crude oil would imply higher prices at the pump, spurring inflation. Futures on most Asian indexes signaled gains amid the OPEC proposal.

Markets were taken aback by initial reports of the oil-output deal, with Saudi Arabia and Iran wrong-footing traders who had expected a continuation of the pump-at-will policy the Organization of Petroleum Exporting Countries adopted in 2014. OPEC agreed to trim production to a range of 32.5 million to 33 million barrels per day following an informal meeting in Algiers. Many of the details are still to be worked out and the group won't decide on targets for each member country until its next gathering at the end of November.
"The cut is clearly bullish," Mike Wittner, head of oil-market research at Societe Generale SA in New York, said by phone. "The number of actual barrels that will be taken off the market is unclear. What's much more important is that the Saudis appear to be returning to a period of market management."
For more the Algiers meeting and proposed deal, see our live blog of the event here.
Investors also mulled comments from Federal Reserve officials Wednesday for clues as to the timing of U.S. interest-rate hikes.
Chair Janet Yellen told lawmakers that the majority of the central bank's policy-setting group sees a rate increase as likely this year. Meanwhile, Chicago Fed President Charles Evans said an extended period of low rates will leave policy makers with less room to navigate future shocks and reiterated that the "lower-for-longer" view is taking hold among businesses and investors.
Meanwhile, traders are looking for signs that the world's largest economy is strengthening and awaiting the next earnings season, which will kick off in about two weeks. A report Wednesday showed orders for durable goods in the U.S. were little changed in August, while shipments of capital equipment declined for a fourth straight month, indicating lingering weakness in manufacturing. A revised reading on second-quarter growth, pending home sales as well as measures of personal income and spending are due later this week.
Commodities
West Texas Intermediate crude for November delivery climbed 5.3 percent to settle at $47.05 a barrel on the New York Mercantile Exchange, the highest close since Sept. 8. Brent oil for November settlement rose 5.9 percent to $48.69 on the London-based ICE Futures Europe exchange. The global benchmark closed at a $1.64 premium to WTI.
While some members of OPEC will have to cut output, Iran won't have to freeze production, said the country's oil minister, Bijan Namdar Zanganeh. The lower end of the production target equates to a nearly 750,000 barrels-a-day drop from what OPEC said it pumped in August. The deal will likely reverberate beyond the bloc, burnishing prospects for the energy industry and boosting the economies of oil-rich countries such as Russia and Saudi Arabia.
Tin climbed as inventories of the metal tracked by the London Metal Exchange continued to fall. Copper and aluminum also advanced, while gold retreated.
Stocks
The S&P 500 Index rose 0.5 percent to 2,171.37 as of 4 p.m. in New York, erasing a 0.4 percent slide and closing above its average price over the past 50 days for the first time in almost a week. The gauge also wiped out a monthly decline.
Oil and gas producers posted the biggest jump since January, driving gains in the S&P 500 and the Dow Jones Industrial Average. U.S. equities had fluctuated earlier in the session as oil prices were whipsawed following mixed data on American crude stockpiles. The afternoon rally in energy producers overshadowed losses in Nike Inc. and AT&T Inc.
"While the correlation between oil and stocks has loosened, it's still dictated some trading this week," said Matt Maley, an equity strategist in New York at Miller Tabak & Co LLC. "We're about to head back into earnings season, when we'll see if stocks can get the pick-up the market's been hoping for."
Shares in emerging markets also rebounded. SABMiller Plc helped lift South Africa's benchmark after investors approved a takeover by Anheuser-Busch InBev NV. Saudi Arabian stocks posted their steepest two-day slump since January amid concern austerity measures will curb growth, while people familiar with the matter said the kingdom's first international bond may be delayed.
The Stoxx Europe 600 Index climbed 0.7 percent as Deutsche Bank AG rebounded from a record low. Germany's DAX Index and Italy's FTSE MIB Index snapped a three-day losing streak, while automakers and banks boosted France's CAC 40 Index.
In Asia, futures on Japan's Nikkei 225 Stock Average rose with contracts on equity gauges in Australia and South Korea. Those on Hong Kong's Hang Seng and Hang Seng China Enterprises Index, however, fell 0.3 percent in most recent trading.
Currencies
Norway's Krone, Canada's dollar and Brazil's real led gains among the world's major currencies, strengthening at least 0.6 percent against the greenback. The Bloomberg Dollar Spot Index, which tracks the currency against 10 major peers, fell 0.1 percent.
The dollar is down 4.2 percent this year as traders lose faith in the prospect of U.S. rate policy diverging with that of Europe and Japan, where central banks have pursued unprecedented monetary stimulus. While the Fed last week projected one rate increase for 2016, they also reduced forecasts around tightening in the coming years.
"It's hard for the Fed to be anywhere near hawkish when they just delivered a very dovish message last week," said Win Thin, global head of emerging markets at Brown Brothers Harriman & Co. in New York. "The market is waiting for the next driver," especially labor data due next week, he said.
The pound headed for its fifth quarterly decline versus the dollar, its longest selloff since 1984, as the currency bears the brunt of the U.K.'s decision to leave the European Union. Sterling was little changed on Wednesday after weakening on Monday and Tuesday.
Bonds
Benchmark 10-year Treasury yields rose two basis points, or 0.02 percentage point, to 1.57 percent, while two-year bond rates increased one basis point to 0.76 percent.
Treasury yields had fallen across maturities since the Fed left rates unchanged at its Sept. 21 meeting, while signaling that the case to hike had strengthened on better U.S. economic data. The bullish comments paired with no policy action left bond traders wondering how good conditions need to be for the Fed to move, particularly as officials pared projections for the future path of tightening.
"They say they're data-dependent but in September they couldn't even point to any data that suggest they should stand pat," Charles Plosser, former president of the Philadelphia Fed, said in an interview on Bloomberg TV Wednesday. "That does damage, I think, to their credibility about them being data-dependent."
— With assistance by Eddie Van Der Walt, Rebecca Spalding, Yun Li, Wes Goodman, Netty Idayu Ismail, Neil Denslow, Emma O'Brien, Anchalee Worrachate, James Regan, Alan Soughley, Ben Sharples, Paul Burkhardt, Mark Shenk, Stephen Kirkland, Joseph Ciolli, David Goodman, Rita Nazareth, and Roxana Zega
Before it's here, it's on the Bloomberg Terminal.
LEARN MORE