Obama Names DeLaurentis First Ambassador to Cuba in 55 Years
by
Career diplomat currently top envoy at U.S. Embassy in Havana

Appointment comes as U.S. flights to Cuba resumed this month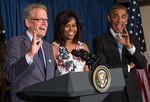 U.S. President Barack Obama nominated career diplomat Jeffrey DeLaurentis as the nation's first ambassador to Cuba in 55 years as relations between the two nations thaw, the White House said in a statement.
DeLaurentis currently serves as the Chargé d'Affaires at the U.S. Embassy in Havana, which formally re-opened last year.
"Jeff's leadership has been vital throughout the normalization of relations between the United States and Cuba," Obama said, according to the statement. "The appointment of an ambassador is a common sense step forward toward a more normal and productive relationship between our two countries."
The U.S. relaunched commercial flights to the communist island this month and a JetBlue flight was the first to touch down in Cuba in more than five decades.
The embargo against Cuba, which remains in place, has cost Cuba $4.7 billion this year, according Cuba Foreign Minister Bruno Rodriguez Parrilla. World leaders speaking at the United Nations General Assembly last week called for the end of the blockade.
Before it's here, it's on the Bloomberg Terminal.
LEARN MORE