Negative Rates Can Work in Small Economy, Credit Suisse CEO Says
by
Tidjane Thiam speaks at banking conference in London

SNB's deposit rate has been at -0.75% for more than a year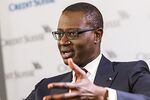 The case of Switzerland shows that negative rates can be successful in small countries, Credit Suisse Group AG Chief Executive Officer Tidjane Thiam said.
QuickTake Negative Interest Rates
Echoing comments made by Bank of England Governor Mark Carney last month, the head of Switzerland's second-biggest bank also said he wasn't a "great fan" of the policy tool, which officials in the euro area, Denmark and Sweden have also resorted to in a bid to stoke inflation and target their currencies.
"I think they can work in a small economy," Thiam said, speaking at a banking conference in London on Tuesday. "That's the statement I'm really willing to defend very strongly."
The Swiss National Bank set its deposit rate at minus 0.75 percent in January of last year to reduce the franc's appeal among investors and thereby stymie the currency's appreciation against the euro.
The SNB allows a certain amount of cash to be exempt from its charge, with the threshold currently set at 20 times an institution's minimum reserves. Under the current threshold, 73 percent of domestic sight deposits were exempt from the deposit charge as of March, according to Credit Suisse research.

Since the implementation of sub-zero rates last year, mortgage costs have risen in Switzerland as banks seek to offset the deposit charges, and some have passed the negative rates on to institutional clients. Retail clients so far have been largely spared.
Unlike the European Central Bank, which has been seeking to boost price pressures, the BOE has chosen not to cut rates below zero, with Carney saying they had negative consequences for the financial system and savers. In Denmark, by contrast, the head of the bankers' association said the policy may not be as punishing for lenders as once thought.
"In the context of the Swiss economy, you can see in the numbers of the Swiss Bank that it's been well-managed, and it's been manageable," Thiam said. However, he also stressed that for pension funds and other asset managers the low returns are a problem.
"It's not something that should last too long," he said.
Before it's here, it's on the Bloomberg Terminal.
LEARN MORE