First Clinton-Trump Presidential Debate Sets Record for Viewers
by
More than 84 million people tuned in across 13 TV networks

NBC tops broadcast, cable networks with 18.2 million viewers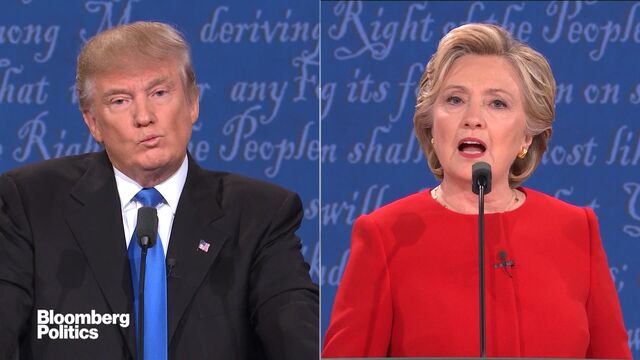 The first presidential debate between Donald Trump and Hillary Clinton drew more than 84 million viewers, making it the most-watched in history.
The number snapped the previous record for the biggest debate audience set during the 1980 contest between Jimmy Carter and Ronald Reagan, which drew 80.6 million viewers, according to Nielsen data released Tuesday. Monday's tally also eclipsed the first 2012 debate between Barack Obama and Mitt Romney, which had 67.2 million viewers.
The massive audience provided yet another lift for television networks this political season, and reinforced the power of live events at a time when viewership overall is shrinking as more people watch video online. While the debate set a record, it fell short of some estimates that it could draw as many as 100 million viewers and rival the Super Bowl.
Network
Viewers,
in millions
NBC
  18.2
ABC
  13.5
Fox News
  11.4
CBS
  12.1
CNN
   9.8
Source: Nielsen Data
NBC drew the largest audience among broadcast and cable networks, attracting about 18.2 million viewers. ABC came in second among broadcasters with about 13.5 million; CBS finished third with about 12.1 million. Fox finished fourth with about 5 million. PBS came in at 2.96 million, while the Spanish-language network Univision drew about 2.2 million viewers.
Among cable networks, Fox News drew 11.4 million viewers, CNN attracted 9.8 million and MSNBC drew an audience of 4.9 million, according to a statement from CNN. Fox Business Network averaged 673,000 total viewers and CNBC had 520,000, according to Fox.
The big audience will help the cable networks command high prices for advertising before and after the next debates, said Paul Sweeney, an analyst at Bloomberg Intelligence.
"It'll certainly be a positive financial impact," he said. "But the bigger, longer-term question for the networks is 'Will this interest in politics carry over past the election?' Historically, the answer has been no."
Sticking Around
The figures represent averages across the entire debate, which lasted more than 90 minutes starting at 9 p.m. New York time. Among the broadcast networks, the audience was similar during each segment of the debate, suggesting that viewers stuck with the program throughout the telecast.
The event, moderated by Lester Holt of NBC News at Hofstra University in New York, marked the first time that voters could see the major-party nominees on the same stage. Clinton and Trump sparred over trade, the U.S. economy, race and foreign policy, showing their starkly different personalities and visions of the nation's future.
The debate, which competed for attention with Monday Night Football on ESPN, was commercial free, but cable networks sought to attract more viewers -- and advertisers' dollars -- with related programming before and after the contest.
Before it's here, it's on the Bloomberg Terminal.
LEARN MORE