Mobily CEO Sees Hit From Fingerprinting, Slower Saudi Economy
By and
Fingerprinting rule costs all kingdom's carriers, CEO says

Welcomes partners to join Mobily, STC in telco tower talks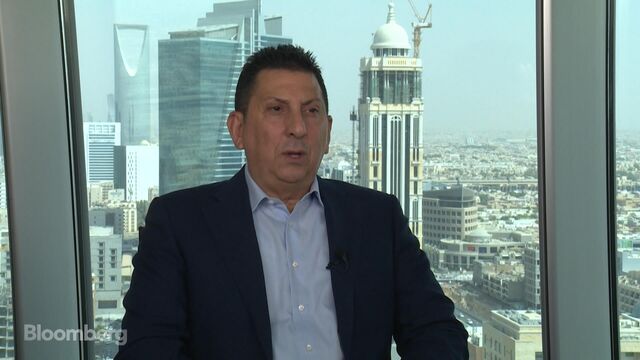 Saudi Arabia's demand that all phone and internet customers be fingerprinted for identification is pressuring Etihad Etisalat Co.'s sales and profits in the kingdom, according to Chief Executive Officer Ahmad Farroukh.
Introduced this year, the requirement affects all carriers and is hurting subscriber numbers at Etihad Etisalat, or Mobily, as the company is known, Farroukh said in a television interview in Riyadh with Bloomberg Markets Middle East. Saudi Arabia's slowing economic growth will also be a drag on its finances, he said.
"Consumer spending definitely will be a little bit impacted and definitely this will have an impact on our top line and on our bottom line," Farroukh said. Businesses could also delay in investing in some of their communication needs, he said. "And that will also have an impact."
Lackluster economic growth and the fingerprinting task is adding to troubles for the second-biggest carrier in the Saudi Arabia. The total number of mobile subscriptions in the kingdom has fallen to 48 million in the second quarter from 53 million last year, with further decreases expected, according to the Communications and Information Technology Commission. Mobily is still recovering from accounting irregularities discovered in 2014 that cost it billions in market value and led to the ousting of then-CEO Khalid Omar Al Kaf.
The kingdom's gross domestic product is forecast to expand 1.5 percent this year as the world's largest oil exporter grapples with lower oil prices and government austerity measures, according to a Bloomberg survey of economists. That's the slowest pace since the 2009 global recession. Point of sale transactions, an indicator of consumer spending, were down 16 percent in July compared to the same month last year, while cash withdrawals fell 19 percent, according to central bank data.
Mobily's share price has dropped 24 percent this year, compared to 14 percent for the benchmark Tadawul All Share Index. Mobily reported a profit of 18.8 million riyals ($5 million) in the second quarter, compared with a loss of more than 900 million riyals a year earlier, still well below the level of profit before the irregularities surfaced.
"I think in the very near future, hopefully, we'll be able to get back to a level of profitability that a No. 2 player can have in a market like Saudi Arabia," Farroukh said.
The accounting errors are "resolved and it's behind us," Farroukh said. Mobily is working to apply new accounting standards required in the kingdom from 2017, he said. A Capital Markets Authority investigation into the irregularities is ongoing.
Tower business
Mobily is still reviewing options for its portfolio of about 10,000 telecommunications towers in the kingdom, Farroukh said. Mobily told bidders that it shelved the idea of selling its towers in June, after Saudi Telecom Co. said it may consider offers for its own infrastructure, according to people with knowledge of the matter. Carriers around the world are selling their towers to reduce exposure to costly infrastructure.
Saudi Telecom, the kingdom's largest operator, has spoken to Mobily and competitor Zain Saudi Arabia about merging the three firms' towers into a single entity, people familiar with the matter have said.
Asked if he's scrapped a tower sale, Farroukh said "it's not about scrapping."
"Selling the towers or entering in a kind of primary cooperation agreement with other players in the kingdom goes under the same objective: the best value we can bring to our shareholders," he said. "We could have sold the towers" during the first or second quarter, he said, "but at the end of the day, what will be there for the coming two or three years for us and for our shareholders?"
The agreement between Saudi Telecom and Mobily was not intended to exclude other operators, Farroukh said. "We are open for any other party to join us."
Before it's here, it's on the Bloomberg Terminal.
LEARN MORE