HSBC Sees No Good Outcome for Italy's Bonds From Renzi Vote
by
Nation is due to vote on constitutional reforms on Dec. 4

Bank says bonds would underperform Spain's on 'No' result
With more than two months to go before a referendum on constitutional changes that may seal the future of Italian Prime Minister Matteo Renzi, Europe's biggest bank has already given its verdict: whatever the result, the country's bonds will suffer.
Italy's government securities will probably continue to underperform their Spanish peers in the medium term even if voters decide to support Renzi's reforms on Dec. 4, HSBC Holdings Plc strategist Chris Attfield said in a client note. He puts this down to the relatively slow growth of the euro zone's third-biggest economy -- which is also home to its largest bond market -- as well as concerns regarding the banking sector.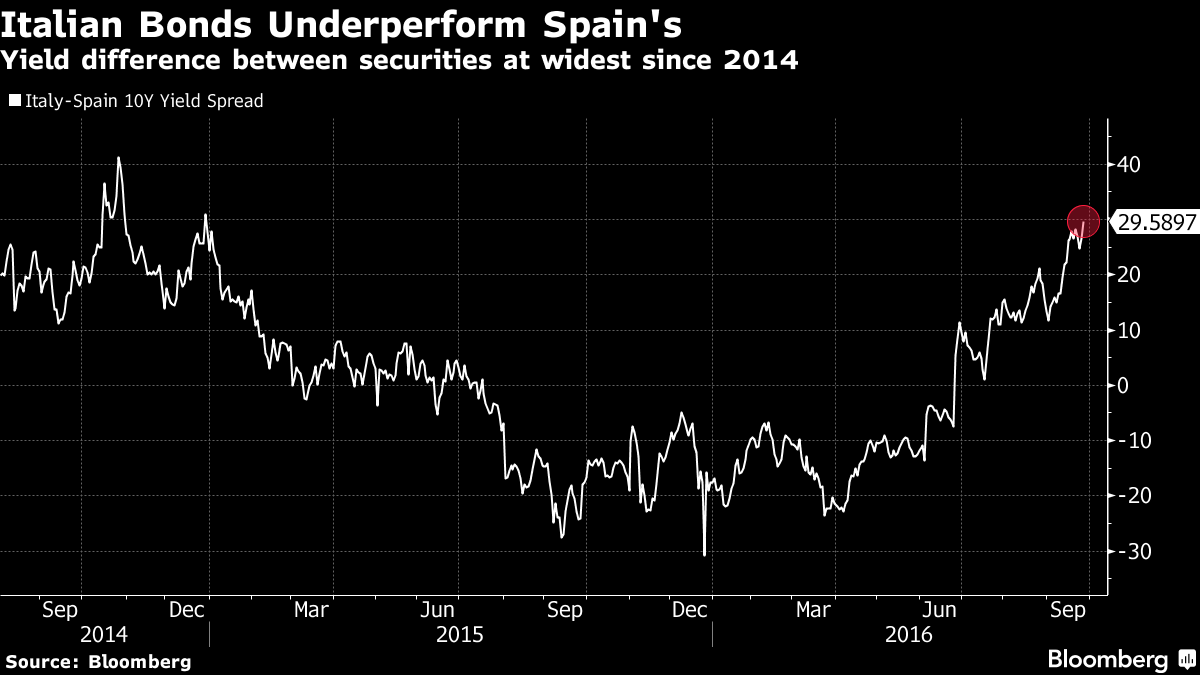 Renzi has gambled his political future on his plan to reshape the Senate so that it can no longer block legislation indefinitely and loses its power to call a no-confidence motion in the government. Italian bonds fell, pushing the yield spread over Spanish securities to the most since 2014.
"The market is less sanguine about political risk, particularly after the U.K.'s referendum result," London-based Attfield wrote. "After a no vote, we would look for an elevated uncertainty premium to persist" in Italy's bonds.
If voters reject the reforms, and it leads to the prime minister's resignation, the 10-year spread over Spanish yields may immediately widen to more than 40 basis points, Attfield said, from 29 basis points now.
Renzi's Credibility
The extra yield Italian securities offer compared with their Spanish counterparts has widened from virtually nil around mid-year as the bonds rose more slowly, data compiled by Bloomberg show. The spread is currently the biggest on an end-of-day basis since December 2014 and last reached 40 basis points, or 0.4 percentage point, about two months earlier.
A "Yes" result would initially narrow the spread, though Italian bonds would still underperform longer term, said Attfield, whose bank is a primary dealer for the nation's government debt. If Renzi stayed, the risk premium would persist due to the damage to the premier's credibility and reform agenda, according to HSBC. Pollsters say the result is too close to call.
Italy's 10-year securities fell, with the yield climbing four basis points to 1.22 percent as of 11:15 a.m. in London. The 1.6 percent security due in June 2026 dropped 0.365, or 3.65 euros per 1,000-euro ($1,124) face amount, to 103.455.
Before it's here, it's on the Bloomberg Terminal.
LEARN MORE