Bond Market Splits Over Deutsche Bank Woe With Periphery Shunned
by
Germany's 10-year bond yields fall to lowest since July

Investors look to core bond markets as European stocks slip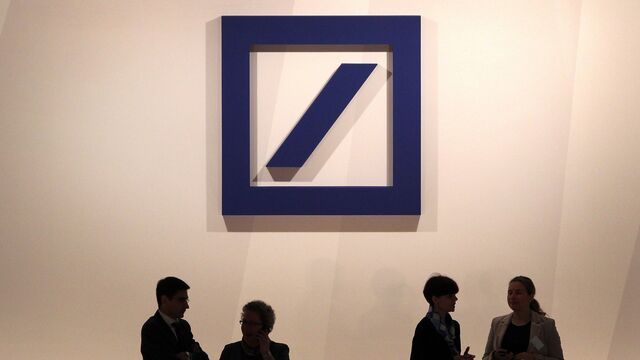 Renewed turmoil in Europe's banking shares is splitting the region's bond market.
Securities from higher-rated nations climbed as investor uneasiness about Deutsche Bank AG's financial footing sparked demand for the safest assets at the expense of those from more indebted nations. Germany's 10-year bond yield fell to the lowest since July and Finland's dipped below zero for the first time. The euro area's periphery missed out on the rally as traders focused on political risk in these nations.
The market split is redolent of moves during the euro debt crisis, which have become less frequent as the European Central Bank's quantitative easing program supports the region's securities and helps smother political risk. Those themes, however, are back on investors' radars as Portugal approaches a review of its only investment-grade rating on Oct. 21 and Italy starts a 10-week countdown to a political-reform vote that may topple its prime minister.

"We have seen for a couple of days now some safe-haven flows and spread-widening in the periphery, especially in Italy and Portugal, due to country-specific risks surrounding" those nations, said Daniel Lenz, a market strategist at DZ Bank AG in Frankfurt. "We also have concerns about the banking sector again" causing demand for the safest assets, he said.
Deutsche Bank shares tumbled to a record amid investor concern about its capital buffers. Stock markets in Europe were pulled down by banks and by Volkswagen AG, as people familiar with the matter said the U.S. Justice Department is assessing how big a criminal fine it can extract from the German carmaker over emissions-cheating without putting it out of business. That drove investors toward the safest fixed-income assets, which were also buoyed by bets central banks will extend or maintain easy monetary policy.
The yield on Germany's 10-year bonds dropped two basis points, or 0.02 percentage point, to minus 0.14 percent as of 4:44 p.m. London time, and earlier fell to minus 0.16 percent, the lowest since July 12. The zero percent security due in August 2026 gained 0.232, or 2.32 euros per 1,000-euro ($1,125) face amount, to 101.383.
Finland's 10-year bond yield dropped two basis points to minus 0.012 percent, below zero for the first time on record, and it earlier dropped to minus 0.03 percent, a record. The European Stability Mechanism sold 2025 bonds at negative yield for the first time on Tuesday. The institution sold 999.85 million euros of the securities at a yield of minus 0.06 percent.
As the safest bond rallied, higher-yielding debt declined. Italian 10-year bond yields climbed two basis points, and those of similar-maturity Portuguese securities increased three basis points.
Easing Speculation
Speculation that more monetary easing by central banks is on the way got a boost last week after the Federal Reserve scaled back its predictions for interest-rate increases and the Bank of Japan tweaked its stimulus program. Bonds across Europe were restrained earlier in the month by the ECB's Sept. 8 failure to signal an immediate extension of its stimulus program.
In a hearing before European Parliament lawmakers on Monday, ECB President Mario Draghi said that the bank still has monetary-policy firepower left, mentioning a "willingness and determination to act." The central bank is currently reviewing the design of its quantitative-easing program to ensure its "smooth implementation," he said Sept. 8. The plan is scheduled to run until March 2017, and policy makers have pledged to keep it going as long as needed.
"There are less concerns that central banks worldwide could reduce" their easing policies after the Fed and Bank of Japan meetings last week, DZ's Lenz said. "This in general brought some relief rally" to global bonds, he said.
Before it's here, it's on the Bloomberg Terminal.
LEARN MORE