Masters in Politics Podcast
Giuliani Lauds Trump for Not Attacking Clinton Over Husband's Infidelity
By and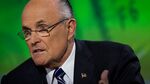 One of Donald Trump's staunchest surrogates, former New York Mayor Rudy Giuliani often praises the Republican presidential nominee over what he says on the campaign trail. After Monday's first debate with Democrat Hillary Clinton, however, Giuliani lauded Trump over what went unsaid. 
"He restrained himself from saying, and I know he would like to say, except the fact that Chelsea Clinton was in the audience, and that is that she enabled and supported a president who was a disgrace to the White House," Giuliani told Bloomberg Politics' "Masters in Politics" podcast in the spin room following the debate. "He was one of the two presidents impeached. He was impeached because he took advantage of an intern, an intern that she attacked for six months, and she claims to be a feminist."
Giuliani railed against what he sees as Clinton's double standard when it comes donations her family foundation has accepted from "at least six countries in which women can't drive, women are stoned and in which women are killed for adultery." 
"He wanted to say it and he did not say it and as his friend I'm going to say it for him. Total phony," Giuliani, whose own marital infidelity played out in New York's tabloids in the late 1990s, said. 
In Clinton's camp following Monday's debate, David Plouffe, Barack Obama's former campaign manager, is less worried about recent swing state polls showing a tightening race, especially in Pennsylvania, where Plouffe sees little chance of a Trump comeback. 
"He can not win Pennsylvania," Plouffe said. "She's going to walk out of southeastern Pennsylvania with a 600,000 vote margin, worst case by 550,000. He can't overcome that, it's just simple math."
Also in this week's podcast, Sarah Huckabee, John Podesta, Joel Benenson, Marsha Blackburn and Lt. Gen. Mike Flynn weigh in on why they think their candidate prevailed in the first debate. 
You can hear the interviews below.
Before it's here, it's on the Bloomberg Terminal.
LEARN MORE