Gates's Cascade Gets Deal Leverage With Bespoke Buyout Venture
By
Invests in firm led by former Perelman lieutenant, ex-Saks CEO

Will get voice in which deals to back, when to put up money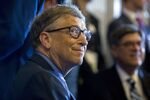 Bill Gates's investment firm is joining a private equity venture on terms rarely available from traditional buyout funds.
Cascade Investment, manager of Gates's personal fortune, billionaire Nathan "Natie" Kirsh, and a family that made its fortune in commodities plan to take stakes in retailers, restaurant chains and consumer-branded companies. They're partnering with a small team of New York turnaround experts who'll do the legwork to find and negotiate deals.
The three investors are helping to break the industry mold in two ways: they won't have to commit any money upfront for transactions and they'll get to cherry pick deals. It's part of a broader trend in the private equity industry in which wealthy families are either going their own way on deals or demanding more say for the use of their money.
"Families like to be able to call more shots than a lot of other LPs, especially in the industries they think they know," said Steven Huttler, a partner at the New York law firm Sadis & Goldberg who specializes in private equity. But deal-makers are "smart enough to know that family office money is the stickiest, strongest and best."
Cascade's Investments

The investment group is backing a venture led by Jerry Levin, who spent the 1990s turning around companies for Ronald Perelman, and Stephen Sadove, the former chief executive of the Saks store chain. The firm, called JW Levin Management Partners, is based in New York and will focus on companies with a market cap of about $1 billion, though it may seek smaller enterprises, Levin, 72, said in a telephone interview.
"We are operating people, and they count on us to identify things that, from an operating perspective, have potential," Levin said. The backers "will look at every deal instead of turning money into a fund."
Gates and the other investors agreed to back JW Levin when the venture was formed in October 2015. The details on the firm were disclosed last month, when it registered as an investment adviser with the U.S. Securities and Exchange Commission.
Cascade, based in Kirkland, Washington, and run by Michael Larson, oversees almost all of Gates's fortune, estimated at $89 billion. It holds stakes in several publicly traded companies, including Canadian National Railway Co. and waste manager Republic Services Inc., according to regulatory filings.
Wealthy Families
Kirsh controls London-based Kirsh Group, a closely held conglomerate with a 75 percent stake in commercial food supplier Jetro Holdings. He's worth $5.5 billion, according to the Bloomberg Billionaires Index.
The other investor is the family of the late Ludwig Jesselson, who previously ran Philipp Brothers, once one of the world's largest commodities trading firms. His son, Michael, heads his own financial firm, Jesselson Capital, and is a director of retailer American Eagle Outfitters Inc.
Larson and Cascade's outside spokesman didn't return telephone calls seeking comment. Representatives for Kirsh's family office and Michael Jesselson also didn't return calls.
Levin said the venture will invest in industries most buyout firms are avoiding. "We don't believe bricks and mortar are going away," Levin said of retailers.
'Beaten Up' Companies

Buyout deals involving retailers total $6.3 billion so far this year, down 73 percent from all of 2015, according to London-based Preqin. Teen clothing chain Aeropostale Inc. filed for bankruptcy protection in May, while stores like Macy's Inc. and Sears Holdings Corp. are struggling.
"The market has beaten up these companies quite a bit," said Kevin Keung, an investment analyst at Water Island Capital, the New York-based manager of The Arbitrage Fund. "There are opportunities in the turnaround space."
JW Levin will root out these deals. After working as a dealmaker at Pillsbury Co., Levin in 1989 joined Perelman, the investor known for using junk bond financing from Michael Milken to acquire control of companies. Perelman installed Levin as CEO and chief fixer of several of businesses, including Revlon Inc. and Sunbeam Corp., which had just ousted its CEO.
From Saks to J.C. Penney

Sadove is known for mending fallen retailers. In 2013, he sold Saks for $2.7 billion and became a director at J.C. Penney Co. to help revitalize the company. Sadove left that board in May.
JW Levin will create a separate fund for each private equity deal, according to a regulatory filing. Gates has the right to provide as much as 50 percent of the capital for each transaction, while Kirsh and Jesselson can contribute up to 25 percent each. If the investors don't provide all the money for a deal, JW Levin can raise the rest from third parties.
The structure that JW Levin is using, commonly known as a pledge fund, has mainly been employed by money managers that don't have an established track record, said Jeff Levi, a principal at Casey Quirk by Deloitte, a consultant on business strategy. While this framework benefits investors, it's less attractive to buyout firms, particularly as a primary means of raising capital.
"It results in lower fees and it creates a huge uncertainty around having capital to pay for deals," Levi said.
Most private equity firms require investors to commit a set amount of capital. The investors pay an annual management fee of up to 2 percent until the money is invested, which can take as long as seven or eight years. And fund investors have no voice on deals.
 
Gates and the families won't face those issues.
"I have to admit, it's kind of unique," Levin said.
Before it's here, it's on the Bloomberg Terminal.
LEARN MORE