Fox Says U.K. Will 'Uphold' WTO Commitments After Brexit
by and
There will be 'no legal vacuum' from leaving EU, Fox says

Trade chief says Britain wants more liberalized commerce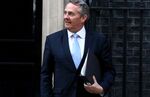 Trade Secretary Liam Fox said the U.K. will "continue to uphold" its commitments to the World Trade Organization even after it leaves the European Union, drawing praise from pro-Brexit economists and alarm from those seeking a softer withdrawal from the bloc.
"The U.K. is a full and founding member of the WTO," Fox told a conference of the organization in Geneva on Tuesday. "We have our own schedules that we currently share with the rest of the EU. These set out our national commitments in the international trading system."
While arguing "there will be no legal vacuum," Fox said the U.K. will still pursue a "more liberalized trade agenda" once it leaves the bloc. Although he didn't commit the U.K. to any specific trading plan for after Brexit, Fox's speech may signal he wants the country to operate within the WTO's rulebook rather than remain in the confines of the EU's customs union.
A customs union means members enjoy tariff-free trade between themselves and impose the same levies on other countries. Membership of the EU customs union limits Fox's ability to strike trade deals with third parties although leaving would likely subject British exporters to the cost of tougher border controls and regulations. The U.K. may also need to belong to the WTO in its own right given it is currently a member through the EU.
More Liberal
"In the era of globalization we want to be free to help shape an even more transparent, more open and more liberal trading environment," Fox said.
Patrick Minford, co-chairman of Economists for Brexit, praised Fox's speech and said trading within WTO rules is "economically the preferred option for long-term prosperity in the U.K." He calculated leaving the EU customs union would benefit the average household by 40 pounds a week.
By contrast, Pat McFadden of the Open Britain campaign, said Fox's speech was vague and called on him to better explain the consequences of leaving the customs union.
"The public have a right to know before the government makes crucial decisions on our trading future," said McFadden. "It is vital that he does not rely on the the WTO, and sleepwalk onto WTO rules, which would be the worst outcome for the British economy, as key industries like cars would face high and destructive tariff walls."
Before it's here, it's on the Bloomberg Terminal.
LEARN MORE