FBI Gave Clinton Aide Limited Immunity to See Laptop, Comey Says
By
Cheryl Mills's computer was focus of agreement with agency

Trump, Republican lawmakers have criticized immunity decision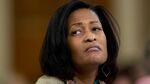 A former top aide to Hillary Clinton was given limited immunity as part of the FBI's investigation into the use of a private e-mail system so investigators could get access to the staffer's laptop, agency Director James Comey told a Senate committee.
The Justice Department gave Cheryl Mills what's known as "active production immunity" as part of its investigation into whether classified information was compromised by Clinton's use of private e-mail, Comey said Tuesday at a hearing of the Senate Homeland Security and Governmental Affairs Committee. Mills served as chief of staff to Clinton when she was secretary of state and continued to represent her as a lawyer during the investigation.
Under the agreement with the FBI, nothing investigators obtained from the laptop could be used against Mills. Ultimately, the FBI found no evidence that Mills committed a crime, Comey said.
"The FBI's judgment was we need to get that laptop," Comey said of the latest dispute in the e-mail controversy that has dogged Democrat Clinton's presidential campaign for more than a year.
Related story: FBI Releases Interview Reports
Republicans led by Representative Jason Chaffetz, chairman of the House Oversight and Government Reform Committee, have seized on the immunity deal for Mills as a sign the FBI failed to carry out a thorough investigation.
Chaffetz, a Utah Republican, has said "the FBI was handing out immunity agreements like candy" and that he has "lost confidence" in its investigation.
During his debate with Clinton on Monday, Trump invoked the FBI's immunity agreements, saying,"When you have your staff taking the Fifth Amendment, taking the Fifth so they're not prosecuted, when you have the man that set up the illegal server taking the Fifth, I think it's disgraceful."
Clinton said in the debate that her use of the private e-mail system "was a mistake, and I take responsibility for it."
Republicans at Tuesday's hearing questioned whether anyone working for Clinton sought to destroy evidence. An employee of Platte River Networks, which managed Clinton's e-mail server after her departure from the State Department in 2013, deleted an archive of e-mails after a House committee issued a subpoena ordering evidence to be preserved.
That person, who the FBI hasn't publicly identified, told investigators he wiped out the archive after the subpoena because Clinton aides had told to him delete old e-mails previously and he had forgotten to do so at the time. Comey said the FBI found no evidence that anyone obstructed the investigation and committed a crime by destroying evidence.
Before it's here, it's on the Bloomberg Terminal.
LEARN MORE