business
Ex-Chancellor Osborne Warns of 'Severe' Damage From Hard Brexit
By , , and
Government should maintain 'closest possible' ties with EU

Osborne speaking in first TV interview since being fired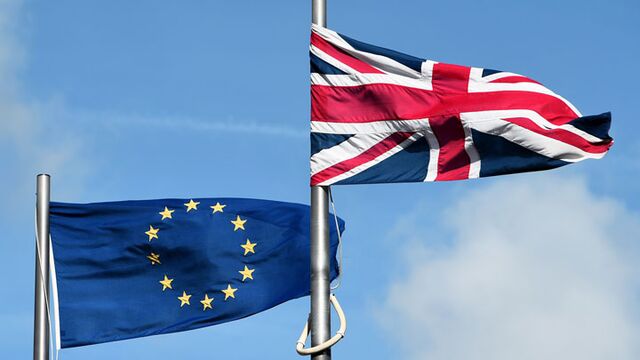 Former Chancellor of the Exchequer George Osborne said the U.K. economy will suffer if Britain pursues a "hard" break with the European Union. 
In his first television interview since losing office after June's Brexit referendum, Osborne told Bloomberg that Prime Minister Theresa May should seek to maintain "the closest possible economic and financial relationship" with the bloc.
"My broad view is we should be ending up with a, to use the jargon, softer Brexit," Osborne said in Washington on Tuesday. "The economic consequences of a harder Brexit will be more severe."
Osborne was fired by May after a campaign in which he warned that backing Brexit would mean a self-inflicted recession and require more government austerity. The economy has so far fared better than many had expected and May has signaled she will back an easing of fiscal policy.
"It is too early to say what the economic consequences of Brexit are going to be," Osborne said. "It's going to be the decisions that we take now which are also going to have a big impact on our long-term economic prospects."
Passporting Rights
A hard Brexit is generally defined as focusing on controlling immigration even if that costs U.K. membership of the single market for goods and so-called passporting rights for banks to sell their services in the EU. Such a policy is backed by the U.K. Independence Party, whose political rise led May's predecessor, David Cameron, to call the referendum.
Osborne said Europe would not be in a position to negotiate a new trading
relationship with the U.K. until after the French and German elections next year.
"Whenever you trigger Article 50, the actual hard bit of the negotiation is going to have to wait for a new German government," he said, referring to the process that will start two years of negotiations to leave the EU. "Until the German government has come to a position it's impossible to get a decision in Europe. That's just realpolitik."
Watch Next: George Osborne on Brexit, U.K. Economy, BOE, and Trump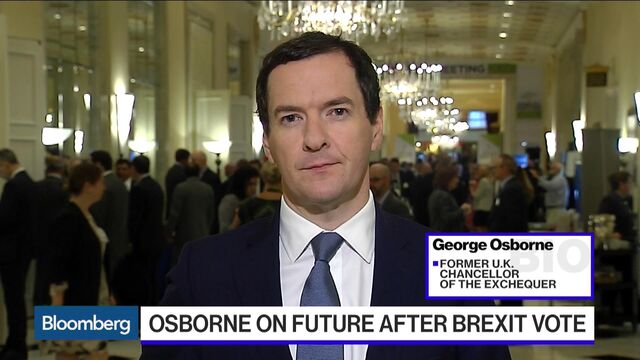 Osborne said lawmakers in the U.K. and the U.S. had to do more to engage with citizens who felt marginalized. He was critical of the proposals put forward by Republican Presidential candidate Donald Trump.
"I don't think the answers that Donald Trump put forward on closing America off from the world, erecting trade barriers, are going to help create jobs," Osborne said. "I don't think they are good for the world more generally."
(
Adds comments on Donald Trump.
)
Before it's here, it's on the Bloomberg Terminal.
LEARN MORE