Musk Offers Mars Vision of Reusable Rockets, $200,000 Fares
by and
Billionaire describes 'Interplanetary Transport System'

SpaceX founder speaks at astronautics conference in Mexico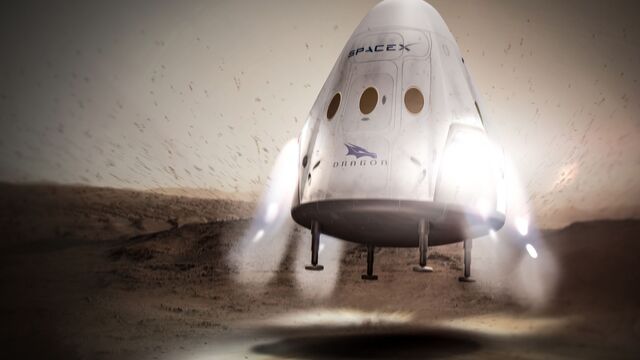 Elon Musk's vision for building a self-sustaining city on Mars -- the next giant leap for humanity -- will require full rocket reusability, refueling the spacecraft in orbit and propellant production on the Red Planet.
WATCH: Elon Musk unveils his plan for colonizing Mars
Musk, speaking at a space conference, laid out a path that would continually drive down cost until almost anyone could buy a ticket -- roughly $200,000 at first, dropping to $100,000 over time. And it's not just one spacecraft: Musk envisions several ships, each with about 100 passengers, making the voyage until there's ultimately a Martian city of 1 million people. Flights could start within a decade "if things go super-well," he said.
"It will be a challenge to fund this whole endeavor," said Musk, who founded Space Exploration Technologies Corp. in 2002 with the goal of sending humans to other planets. He said public-private partnerships will be needed to make it possible. "As we show that this dream is not just a dream but can be made real, the support will snowball over time."
Musk's presentation, titled "Making Humans a Multiplanetary Species," was the highlight of the 67th International Astronautical Congress in Guadalajara, Mexico. The gathering, which draws space enthusiasts, scientists, engineers and government officials, watched Musk's technical presentation in a vast hall while thousands more watched via livestreams. Apollo-era astronaut Buzz Aldrin was among those in the audience. Musk's comments hold sway because of his rocket-launch company's success and the steps he's already taking toward the goal of helping humans move beyond Earth.
"This appeals to anybody with an exploratory spirit," said Musk, the 45-year-old South African-born billionaire and entrepreneur who is also the chief executive officer of electric-car maker Tesla Motors Inc. He said he will use his "personal assets," to help fund the project. His net worth is currently about $8.6 billion, according to Bloomberg estimates.
Aggressive Timeline
Musk isn't alone in the pursuit, but his timeline is far more aggressive. The National Aeronautics and Space Administration has its own "Journey to Mars" program, which calls for sending American astronauts to the Red Planet in the 2030s. Lockheed Martin Corp. has a NASA contract to build Orion, a spacecraft for deep space exploration.
In response to the presentation, NASA said it applauds anyone who is working to make Mars travel a reality. "This journey will require the best and the brightest minds from government and industry, and the fact that Mars is a major topic of discussion is very encouraging," NASA said in a statement.
SpaceX makes rockets at its headquarters in Hawthorne, California, and currently flies the Falcon 9. It makes money, thanks to contracts to launch commercial satellites as well as fly missions for NASA and the U.S. military. The company made history in April when it launched a rocket into space and successfully landed the rocket's first stage on an unmanned droneship bobbing in the Atlantic ocean.
Red Dragon
SpaceX is already scheduling "Red Dragon" missions to explore Mars. Those missions will inform the design of the SpaceX Interplanetary Transport System, which includes a rocket with 42 Raptor engines and a larger spacecraft to ferry people to Mars and beyond.
Musk showed a four-minute animated video during his presentation that revealed how the Interplanetary Transport System would work. The video begins with more than a dozen people walking into the spacecraft perched atop a rocket booster that lifts off from Cape Canaveral, Florida.
Once in space, the spacecraft sits in a parking orbit while the booster returns to Earth to get a propellant tank. The rocket then reflies and refuels the spacecraft in orbit. With the additional fuel, the spacecraft then blasts off toward Mars thanks, in part, to solar arrays that deploy. At midjourney, it's traveling at almost 62,700 mph toward the planet. On Mars, a propellant plant would create fuel for return flights and perhaps for other planet-hopping expeditions.
To pass time during the journey, which Musk says for now will take as little as 80 days, the cabin includes movies and a restaurant.
"It will be really fun to go," said Musk. "You'll have a great time."
Before it's here, it's on the Bloomberg Terminal.
LEARN MORE