Deutsche Bank Risk Measures Soar on Financial Health Concern
By and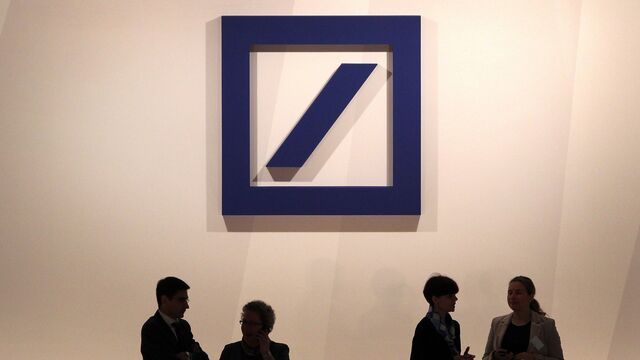 The cost of insuring Deutsche Bank AG's subordinated debt rose to a record amid growing concerns about the lender's financial health.
Credit-default swaps on the German lender's junior bonds jumped as much as 37 basis points to 536 basis points, the highest level in CMA prices going back to 2007. The lender's 1.75 billion euros ($2 billion) of 6 percent additional Tier 1 bonds, the first to take losses in a crisis, fell about 2 cents on the euro to a more than seven-month low of 71 cents, according to data compiled by Bloomberg.
Deutsche Bank is coming under pressure as the U.S. Justice Department seeks a $14 billion fine, hindering Chief Executive Officer John Cryan's push to shore up profitability and capital. Reports that the German government wouldn't step in to back the bank have added to investor concerns.
"Deutsche Bank is hanging over markets and it's not going to go away," Simon Adamson, an analyst at CreditSights, said at a conference in London. "The big question point is the DOJ investigation."
Don Hunter, a London-based spokesman at Deutsche Bank, didn't immediately comment on its credit-default swaps.
Chancellor Angela Merkel's chief spokesman pushed back against Focus magazine's report that the government had ruled out any backing for Deutsche Bank and the lender has said it has no intention to pay the DOJ the full amount. Still, the larger-than-expected sum has sparked concerns that it will be forced to tap investors.
Concerns about Deutsche Bank are roiling the wider debt market. Germany's largest shipping lender Norddeutsche Landesbank abandoned plans to sell euro-denominated bonds on Tuesday, citing market conditions. Germany's flagship airline Deutsche Lufthansa AG withdrew a euro-bond deal on Monday after failing to get the desired price.
"The selloff is gathering its own momentum," said Suvi Platerink, a senior credit analyst at ING Bank NV. "It's a reflection of limited market liquidity and a very small number of buyers around."
Before it's here, it's on the Bloomberg Terminal.
LEARN MORE