Debate May Help Clinton Reclaim Young Voters From Johnson
The Libertarian candidate is drawing more from Clinton than from Trump.
By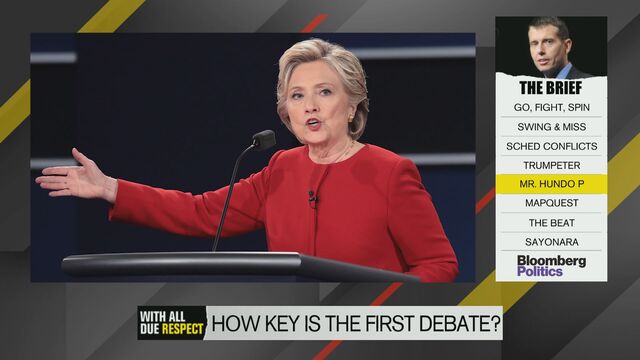 Hillary Clinton's performance in Monday night's debate with Donald Trump may help her staunch the flow of young voters gravitating toward third-party alternatives, according to pollsters and political analysts.
Libertarian Gary Johnson is only drawing an average of about 8 percent support nationally, but polling shows he's pulling slightly more voters away from Clinton than the Republican nominee. That's particularly true with younger voters. Clinton's lead among those under 35 drops significantly in polls when Johnson, and the Green Party's Jill Stein, are included.
"It was a good night for Hillary and a bad night for Johnson," said John Della Volpe, the director of polling at the Harvard Institute of Politics. "Hillary began to reset that relationship with millennials and I think they'll take another hard look at her in the upcoming debate." 
The Institute of Politics surveyed about 60 college students across the country during the debate. While 52 percent said they were backing Clinton ahead of the debate, 63 percent said they thought Clinton won. Della Volpe said they did not see an increase in support for Johnson within this small sample.
"The conversation up until last night for millennials was I don't like Hillary, I don't like Trump, Johnson is a solid third choice," he said. "I didn't hear a lot of that conversation last night." 
Clinton's difficulty in attracting younger voters was illustrated during the Democratic primary, when Bernie Sanders mounted a serious challenge to her on the shoulders of millennial voters. Symone Sanders, who was national press secretary for the Vermont senator's campaign, said young voters in the general election will be attracted by her emphasis on issues rather than Trump's appeals to fear.
"We got to see the Hillary Clinton that a lot of folks see out there on the campaign trail when the cameras aren't on, the Hillary Clinton that talks about policy and issues," Sanders said. "Those are the things that millennial voters care about."
Neither Johnson or Stein made the threshold of support for inclusion in the debate at Hofstra University. Johnson tried to use that exclusion from the debate as a rallying point for his supporters. To be included in the next debate, he must reach an average of 15 percent in the five national polls sanctioned by the Commission on Presidential Debates. Hitting the magic number will require convincing voters that he's a viable third option, not just a protest candidate, Della Volpe said. 
"He needs to talk about the differences between his policy, his persona, his campaign, and that of Hillary and Trump in a meaningful, policy focused way," Della Volpe said.  
As the two major party nominees debated on Long Island, Johnson and his running mate Bill Weld tweeted critiques and commentary from Twitter's watch party in the Chelsea neighborhood in New York City. Johnson grew testy when asked before the debate started whether he's running a spoiler campaign. "It's horrible, why would you even say that?" Johnson said. "We're giving people a chance to vote for something, as opposed to the lesser of two evils. ... You want to waste your vote with Hillary Clinton or Trump, go right ahead."
Republican strategist Steve Schmidt said that Johnson supporters were more likely to shift to Clinton than cast a protest vote after seeing Trump's lack of preparedness on foreign policy issues. 
"A lot of those Gary Johnson voters are Republican voters who are just not comfortable with Trump, and there's nothing that he did tonight that's going to pull those voters into that column," Schmidt said. 
Johnson is also making his case directly to the American public. "Please, America," he tweeted Monday night. "Get them to put a third podium on that debate stage on 10/9."
Before it's here, it's on the Bloomberg Terminal.
LEARN MORE