business
Corbyn Warns U.K. Labour to Unite, Prepare for 2017 Election
By
Newly re-elected leader says Labour will fight on his policies

Further split emerges on approach to immigration after Brexit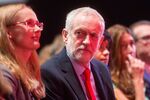 U.K. opposition Labour Party leader Jeremy Corbyn will order his rebellious lawmakers to fall into line behind him and prepare for a general election he'll say he expects Prime Minister Theresa May to call next year.
Ending a five-day party conference that has been marked by acrimonious disputes between Labour lawmakers and Corbyn's supporters, he'll say in his closing speech Wednesday that, having twice been elected party leader in the space of 12 months, he has a right to campaign on the ground he chooses.

"Accept the decision of the members, end the trench warfare and work together to take on the Tories," Corbyn will tell delegates in Liverpool, northwest England, according to remarks released in advance by his office. "The platform on which I was elected will now form the framework of what Labour will fight for." Corbyn espouses a traditional socialist program that many lawmakers argue is out of touch with what ordinary voters want.
Although May has repeatedly ruled out a snap election, Corbyn will say there's "every chance" that she'll go for one in 2017 and will tell Labour to be ready for it. Opinion polls show Labour as much as 15 percentage points behind the Tories -- a result that if replicated in an election might give May a majority of more than 100 seats in the 650-member House of Commons.
Immigration Split
A further split emerged within Labour on how to approach immigration, one of the drivers of the vote by Britons to leave the European Union. In a BBC Radio 4 interview on Wednesday, Corbyn refused to set a limit for acceptable levels of immigration, instead focusing on plans for a "Migrant Impact Fund' that would channel cash to services in areas with high immigration levels.
"The migrants that have come to this country have made an enormous contribution to it," Corbyn said. "I understand the problems that can come in some areas, hence my determination on the migrant impact fund, but I also understand that there are many industries and jobs that have done well from migrant labor and even depend on it."
Corbyn's spokesman on Tuesday told reporters that reducing the numbers coming to Britain isn't an objective for the party. "We will not sow division or fan the flames of fear," Corbyn is due to say in his speech.
That's a marked contrast in tone from his home-affairs spokesman, Andy Burnham, who's due to speak before Corbyn.
'Face Up Fully'
"Labour must face up fully to this fact: Millions of our lifelong supporters voted to leave the EU and voted for change on immigration," Burnham is due to say, according to his office. "Some places feel taken for granted and abandoned by the political class."
Tom Watson, Labour's deputy leader, attacked Corbyn and his supporters on Tuesday, saying it's time to stop "trashing our record," and warned activists they could face another decade out of office.
Watson, who earlier this year unsuccessfully urged Corbyn to resign, used his speech to the conference to tell those who back Corbyn that they have to stop running down the Labour governments of Tony Blair and Gordon Brown, in power for 13 years until 2010.
"We've got to start listening to voters again," Watson said. "When we were in government, we got things right. I don't know why we've been focusing on what was wrong with the Blair and Brown governments for the last six years. We don't win elections like that. We need to win elections."
— With assistance by Alex Morales
(
Updates with Corbyn comment starting in fifth paragraph.
)
Before it's here, it's on the Bloomberg Terminal.
LEARN MORE