Clinton's Smile Charms Ric Burns as History Nerds Witness Debate
by
Famed documentarians appear at New York gala before debate

After trepidation, Burns later says Clinton won 'hands down'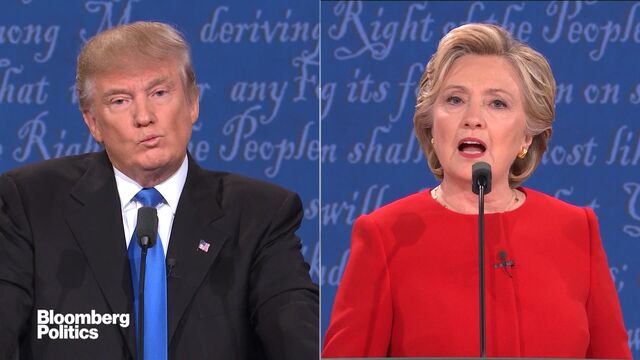 Many Americans spent the hours leading up to Monday's presidential debate deciding on drinking games and devouring pizza. At Cipriani 42nd Street in New York, 485 well-heeled history buffs had a different kind of preparation by attending the History Makers Gala.
The event celebrated Ric Burns and Ken Burns, who between them have told America's story with plenty of sepia tones in films about the Civil War, baseball, jazz, national parks and an eight-part, 17 1/2-hour documentary on New York City.

"I have spent more quality time in bed with Ken and Ric Burns than even Derek Jeter," joked Roger Hertog, chairman emeritus of the society and a founding partner of Sanford C. Bernstein & Co.
The event's host, the New-York Historical Society, presented the brothers with the History Maker medal (which Hillary Clinton claimed in 2014). The evening raised almost $2.5 million for the society's museum and library.
Jazz legend Wynton Marsalis called Ken Burns "a master of the long form in a time of short attention spans." He creates "while conceding nothing to the garish, the foolish or the spectacle that passes for entertainment," Marsalis said, alluding to the coming debate.
Saving Ourselves
In their on-stage interview, the brothers steered clear of politics, though Ken Burns, in the final words in the conversation, said that "when a demagogue says X and you can show it's Y, it's history that gives us the opportunity to save ourselves," noting the New-York Historical Society's role as a fact checker over time.
Afterward, Ric Burns, in a corner of the venue, addressed his frustrations.
"What are these candidates meant to do? How do you speak in public? The rules of decorum are in shreds. And these are not just conservative, fusty old-people rules. I'm a hippie from Ann Arbor, I'm not a lightweight. When an aging hippie's sense of decorum has been violated, we've got a big problem."
Then he went home and watched. And the next morning, over the telephone, he sounded more optimistic.
"I thought last night was a brilliant example of positive adaptation," Ric Burns said. Specifically he was struck by how Hillary Clinton handled the split-screen format, which he noted was a graphic image used by Andy Warhol.
"It has to do with successfully embodying a simple mode of contrast, and I think she won pretty much hands down," Burns said.
Red Suit
He found it in her power red suit, her shoulder shake and her smile. "The smile had a kind of minimalist richness of information," Ric Burns said. "It was sort of going, 'I was told I wasn't smiling enough, what would be better than smiling in this situation? My smile is better than my pursed lips. The smile is to suggest I have a lot on my mind but I'm going to say very little.'"
Trump "might have been more available, in terms of his emotional affect," he added, "but the contrasting of the split screen actually made the case for restraint, preparation and holding back."

One gala guest, Carter Bays, co-creator of the show "How I Met Your Mother," said supporting an institution devoted to promoting history and then watching history in the making offered its own contrast.
"It was nice to spend a night celebrating documentarians before going home and watching Donald Trump rewrite history 19 different ways," Bays said in an e-mail Tuesday morning.
Before it's here, it's on the Bloomberg Terminal.
LEARN MORE