Clinton Rally Runs Into Oil Retreat That Energy Bears Foresaw
By and
Shares seesaw after first presidential debate before rising

Futures had surged as odds for a Clinton victory increased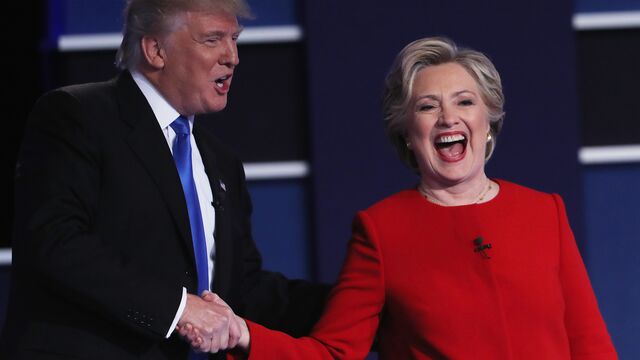 The market has spoken, and it's declared Hillary Clinton the debate victor. But the market also had a lot to say Tuesday about the plunge in crude oil and the plight of banks, a reminder that politics has competition when it comes to influencing sentiment.
Up 0.6 percent to 2,159.93 at 4 p.m. in New York, the S&P 500 Index saw a surge similar to one in the index's futures Monday night, when election odds on betting markets spiked in Clinton's favor as she debated Donald Trump. In between, the benchmark opened lower, and on two other occasions came close to erasing all its gains.
All the swinging around shows politics is but one in a list of threats U.S. investors face. Skepticism toward energy stocks, which fell 0.5 percent Tuesday, has been building for days, with options traders paying the most in a year to protect against declines in an exchange-traded fund tracking the shares. The afternoon rebound came as another stressor, banks, eased up after Deutsche Bank AG erased losses.
"Once you cut through, nothing has really changed fundamentally," said Bill Schultz, who oversees $1.2 billion as chief investment officer of McQueen, Ball & Associates Inc. in Bethlehem, Pennsylvania. "It's back to reality, with the focus back on where interest rates and fundamentals are going."

Options investors have been taking no chances ahead of an OPEC meeting Wednesday that isn't expected to resolve the ongoing surplus that's depressed crude prices. As of Monday, they were paying a 7.9 percent premium to protect against a loss in the Energy Select Sector SPDR Fund over the next three months, the most in a year relative to bullish bets, data compiled by Bloomberg show.
Banks were also a focus of bears long before last night's debate. Short interest on an exchange-traded fund tracking the industry increased to a seven-month high before a selloff yesterday, according to data compiled by Bloomberg and IHS Markit Ltd.
Compare those groups to the broader market, where investors aren't pricing in much of a risk premium at all, derivatives strategists at Credit Suisse Group AG wrote in a client note on Monday. The cost of weekly options on the S&P 500 expiring three days after the Nov. 8 election was less than the premium being paid for the same contracts ahead of last week's Federal Reserve meeting, they said.
"Clinton was perceived to have a good night, and the market reacted accordingly -- it's tended to do much better in election years when the incumbent party wins," said Bruce Bittles, chief investment strategist at Milwaukee-based Robert W. Baird, which oversees $110 billion. "But the price of crude oil is a double-edged sword, and today it's holding the market back."
Partly responsible for the S&P 500's 0.9 percent decline on Monday, Deutsche Bank AG rose 0.6 percent in U.S. trading after erasing a 2.4 percent drop. The shares fell yesterday to a record low amid concerns that mounting legal bills may force the lender to raise capital, a worry that helped send a gauge of U.S. banks to their biggest drop in almost three months. Sentiment improved Tuesday with the group moving higher for the first time in three days, up 1 percent.
Equities extended a climb after a report showed consumer confidence rose in September to the highest level since before the last recession. The Dow Jones Industrial Average advanced 133.47 points, or 0.7 percent, to 18,228.30, and the Nasdaq Composite Index added 0.9 percent. About 6.3 billion shares changed hands on U.S. exchanges, 6 percent below the three-month average.
Stocks also got another leg up after Federal Reserve Vice Chairman Stanley Fischer said low interest rates have helped deliver U.S. labor market gains that are feeding through to higher wages. Optimism on jobs was a factor in a surge in September consumer confidence.
"The consumer confidence number, which was extremely strong here, was a big positive surprise that has helped the market in the early going here," said Timothy Ghriskey, who helps manage $1.5 billion as chief investment officer at Solaris Asset Management LLC in New York. "But energy is a big pressure on the market here. We would be higher without that."
Tuesday's rally trimmed the S&P 500's September loss to 0.5 percent, though the gauge is still headed toward the worst monthly decline since January. While it gained last week as the Federal Reserve kept its policy unchanged, the benchmark is down 1.4 percent since an all-time high reached Aug. 15. The CBOE Volatility Index fell 9.7 percent today after rising Monday by the most in two weeks.
Among shares moving on corporate news, Cisco Systems Inc. rose 1.3 percent as a person with knowledge of the matter said the company plans to spend as much as $4 billion in Mexico over the next couple of years, upgrading its factories and increasing production through contract manufacturers.
Before it's here, it's on the Bloomberg Terminal.
LEARN MORE