China Beige Book Sees Rebalancing Reversal on Old Economy Bounce
Bloomberg News
Manufacturing, property strengthen as retail, services stumble

Hiring still strong as deflationary pressure appears past peak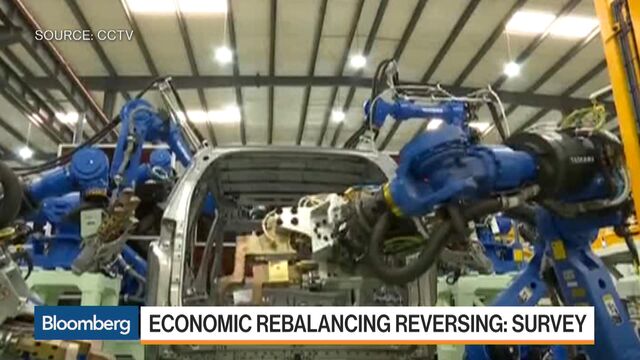 China's economic rebalancing to consumer-led growth is reversing, according to the China Beige Book, which said third-quarter growth engines are exclusively in the "old economy."
Manufacturing, property and commodities strengthened while retail, services and transportation -- crucial parts of the "new economy" -- all saw weaker results, the private survey by CBB International shows. Employment held up while profits and cash flow deteriorated, said the New York-based research group, which collects anecdotal accounts like those in the Federal Reserve Beige Book.
"Deteriorating corporate finances and a rebalancing reversal seem a high price to pay for a quarter's worth of stability," CBB president Leland Miller and chief economist Derek Scissors said in a report. "To be sure, there is good news. Hiring was again strong and it is fair to say this is the single most important issue for the central government."
Rebalancing has been a key goal for China's policy makers, who are seeking more sustainable growth centered around consumers instead of factories and other old drivers. Services accounted for more than half of output last year for the first time, and growth in those industries this year has been faster than manufacturing and agriculture.
Growth Support
Recent official data have been more upbeat as industrial profits rose the most in three years while new credit, industrial output, fixed investment and retail sales all picked up and beat estimates. Private indicators also show more positive sentiment, with business confidence and increased factory activity continuing. Economists have boosted 2016 growth projections to 6.6 percent from 6.5 percent and expect less stimulus, according to Bloomberg surveys.
The latest report is a departure from the prior Beige Book, which said services have a chance to hold up over the longer term as a source of sustainable growth that helps continue the economic transition away from old drivers. In December, CBB reported economic conditions had deteriorated across the board in the fourth quarter. As it turned out, most major indicators stabilized in the first half of 2016.
The new report said retail spending was one of the weakest in the history of CBB's quarterly survey, which tracks more than 3,100 firms and 160 bankers across China. Retailers with stores and online did better than their store-­only competitors, which saw no growth at all, according to CBB's surveys, which were conducted in late August and early September.
Services, Manufacturing
Good news elsewhere in the report included hiring growth, which increased to its best performance in more than four years with 38 percent of companies expanding workforces while 11 percent said that they cut. Real estate and construction revenue growth was steady, led by commercial real estate and commercial construction.
Property improved with "residential realty strengthening while commercial realty and construction each notched multi-­year highs, with only residential construction slowing," Miller and Scissors said. "But here the questions start. Reversing last quarter's improvement in cash flow, every property sub-­sector in Q3 turned red, spurring heavier borrowing."
— With assistance by Jeff Kearns
Before it's here, it's on the Bloomberg Terminal.
LEARN MORE