Photographer: Matthew Lloyd/Bloomberg
Brexit Bulletin: It's Time to Talk About London Housing
Is the British capital about to see its bubble burst?
By
Sign up to receive the Brexit Bulletin in your inbox.
London should brace itself for a "substantial" correction in house prices if Brexit forces the economy to stagnate, according to UBS.
A severe recession could halt the "unsustainable price growth fueled by amply liquidity and tight supply," the Swiss bank said in a report today. 
London is one of six cities considered at risk of a bubble burst because prices have increased by an average of 50 percent since 2011, the report said. Prices of homes in the U.K. capital have increased at a double-digit rate each year since 2013, decoupling prices from local earnings.
Dr. Fox Goes to Geneva
U.K. Trade Secretary Liam Fox heads to the World Trade Organization today to sit on a panel alongside Director General Roberto Azevedo.
While the topic is small enterprises and commerce, onlookers will be monitoring it for clues to Fox's vision for trade post-Brexit.
Chief among the questions is whether he really wants what he is reported to want – that the U.K. leaves Europe's customs union. Leaving would allow Fox to get cracking and strike bilateral accords with other countries such as China. Staying would keep the U.K. subject to whatever the EU negotiates and would grant other countries easy access to its market without enjoying similar benefits in return.
The downside could be higher administrative costs, such as border checks and certification of where goods are sourced from. That could have an impact on the border between the Republic of Ireland and Northern Ireland, the only hard one between the U.K. and EU, which may need strengthening post-Brexit.
The WTO today forecast trade would grow this year at the weakest pace since the financial crisis, expanding just 1.7 percent rather than the 12.8 percent it predicted in April.
Wells Fargo Considers Brexit Plan
Wells Fargo & Co. executives may have bigger issues on their mind at the moment, but they're also finding time to think about Brexit.
The U.S. lender won't wait for the U.K. to formally start talks to leave the EU before taking steps to protect its business, according to its top executive in Europe. The worry is Brexit could reduce income from Wells Fargo's securities and asset-management businesses, as they rely on the U.K.'s right to sell services freely into the EU, Frank Pizzo, president for Europe, the Middle East and Africa, said in an interview.
The Irish Eye Banks
Ireland's central bank governor says banks have already begun exploring the possibility of moving activities to Dublin following the referendum.
"There has to be some level of relocation depending on how the Brexit negotiations go," Philip Lane said an interview with Bloomberg Television.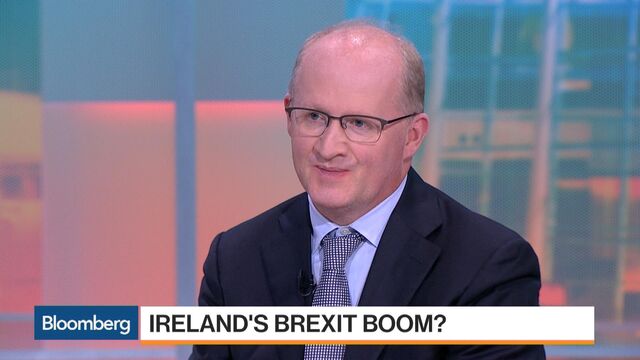 Meanwhile, the head of the country's debt management agency said Ireland may eventually gain from Brexit even if it causes a short-term downturn.
"The advantages of Ireland as a destination for foreign direct investment from multinationals are likely to be amplified," Conor O'Kelly, chief executive officer of the National Treasury Management Agency, told Bloomberg. 
Ryanair Holdings Chief Executive Officer Michael O'Leary said today that the fallout from Brexit will weigh on the discount carrier's profit for as long as four years.
Separately, Zulfiqar Zainuddin, a managing director of Malaysia's sovereign wealth fund, said interest in investing there grew after the Brexit vote and that the country is positioning itself as a haven for U.K. companies.
All may not be lost for the U.K., though. Axel Springer CEO Mathias Doepfner told the Financial Times that while the U.K. is bound to experience short-term pain from Brexit, in three to five years it will be better off than continental Europe.
No Favors From Draghi
Mario Draghi said the British shouldn't be granted any special favors on single-market access during negotiations over its exit, saying "all participants are subject to the same rules."
"It is very hard to imagine that any agreement that will be perceived as discriminatory against some subjects or in favor of other subjects could be a source of stability for the future of our EU."
Speaking on Monday, Draghi said that while the ECB doesn't have an official Brexit role, it could act in an advisory capacity. The central bank has jurisdiction over the payment system and that there may be a need to consider changing the regulatory framework for the planned capital markets union, he said.
On the Markets
The Bank of England began buying corporate bonds, opening another front in its effort to safeguard the economy. The central bank will seek to buy notes issued by companies  including General Electric, United Utilities and Rio Tinto, according to a list distributed last week.
European stocks endured another day of declines, with most down around 0.5 percent shortly before midday in London.

And Finally...
Brexit is proving a boon for some workers, according to a survey by job-search engine Adzuna, which found vacancies for business consultants rose 5 percent in August and were up 10 percent from a year earlier. Average salaries climbed 9 percent on the year to almost £48,000 ($62,000).
"In an uncertain environment, companies are looking for highly skilled experts," said Doug Monro, co-founder of the website. "Consultants are also helping them demystify the business consequences of the vote."
For more on Brexit follow Bloomberg on Twitter, Facebook and Instagram, and see our full coverage at Bloomberg.com
Before it's here, it's on the Bloomberg Terminal.
LEARN MORE