Bond Market in Deepest Central Bank-Induced Slumber Since 2014
by
MOVE index tumbles as traders see placid monetary policy ahead

Calm comes despite concerns about Deutsche Bank, U.S. election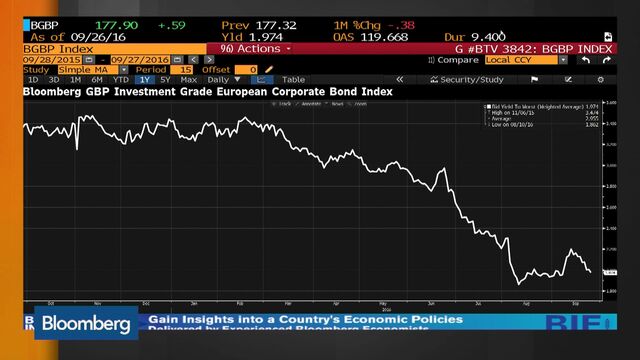 Concerns about a contentious U.S. presidential election and the health of Germany's largest bank still aren't enough to stir a Treasuries market emboldened by accommodative central banks.
A measure of expected price swings in Treasuries sank to its lowest level since December 2014 as turmoil elsewhere in financial markets pushed investors into haven assets. Benchmark 10-year securities rallied for a second day after Monday's U.S. presidential debate and as European stocks halted a two-day rout amid concern about Deutsche Bank AG's financial footing.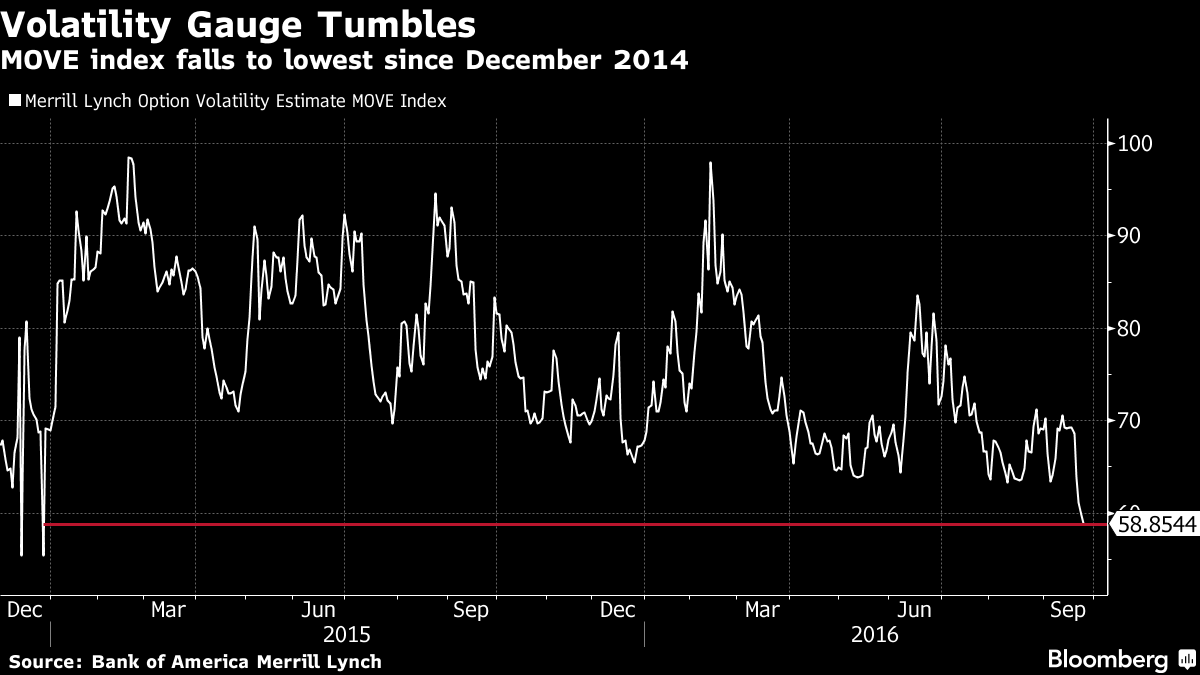 The relative bond-market calm comes as traders foresee few central-bank surprises anytime soon. The Federal Reserve held off on raising interest rates at its meeting last week and signaled a more gradual long-term tightening path than it had before. The Bank of Japan and European Central Bank have maintained stimulus programs, a sign that the nearly decade-long era of easy money is far from over.
"It's almost by design -- central banks are saying we're not going to do anything, relax, and investors are taking that to heart," said Aaron Kohli, a fixed-income strategist at BMO Capital Markets Corp. in New York, one of 23 primary dealers that trade with the Fed. "If they all decide to suppress volatility, they will be successful."
Benchmark 10-year note yields fell three basis points, or 0.03 percentage point, to 1.56 percent as of 5 p.m. in New York, according to Bloomberg Bond Trader data. The price of the 1.5 percent security due in August 2026 was 99 15/32.
MOVE Index
Merrill Lynch's Option Volatility Estimate Index, known by the acronym MOVE, declined for a fifth day to 58.9 Monday, the lowest closing level in 21 months. It has fallen about 14 percent since Sept. 20, the day before the Fed's latest policy decision.
The BOJ announced on Sept. 21 that officials would target an interest rate of zero for the nation's benchmark 10-year government securities.
"Rate markets have become increasingly more globalized in the wake of the financial crisis as many investors have shifted focus abroad in search of better returns," said Gennadiy Goldberg, an interest-rate strategist in New York at TD Securities (USA) LLC, a primary dealer. The BOJ's move "should translate into a decline in volatility" across sovereign-bond markets in the U.S., U.K. and Germany as well, he said.
Policy Path
Traders see about a 15 percent probability that the Fed will raise rates at its next meeting, which falls about a week before the U.S. election, and a 50 percent chance of a hike by year-end, according to futures data compiled by Bloomberg. The calculation is based on the assumption the Fed's target trades at the middle of the new band after the central bank's next boost.
Regardless of when the Fed moves, this tightening cycle is poised to be the slowest and shallowest in recent history, based on the market for overnight index swaps, which reflect expectations for the fed funds effective rate.
A class of investors that includes foreign central banks and mutual funds bought 61.4 percent of the securities at a Treasury five-year note auction Tuesday, above the 59.3 percent average at the past 10 sales.
A closer-than-expected U.S. election or further turmoil in the European banking sector may serve as catalysts that would send volatility higher, according to Timothy High, U.S. strategist at BNP Paribas SA in New York, a primary dealer.
"I don't think we're going to get a big warning before a volatility event," High said. "It's kind of like when a flock of birds changes direction. When one goes, they all go at the same time."
Before it's here, it's on the Bloomberg Terminal.
LEARN MORE