BlackRock Issues Warning on Treasuries as Fed Moves Toward Hike
by
It's time to rethink the role of U.S. Treasuries, Turnill says

10-year yield to exceed 2% in 2017, survey of analysts signals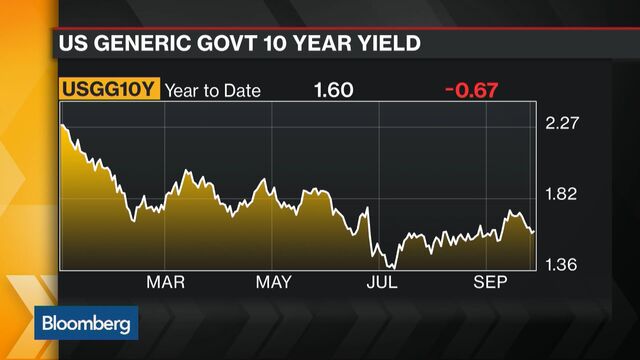 BlackRock Inc., the world's biggest money manager, said investors should be wary of Treasuries as the Federal Reserve moves toward raising interest rates.
"It's time to rethink the role of U.S. Treasuries in portfolios," Richard Turnill, BlackRock's London-based global chief investment strategist, wrote on the company's website Monday. "We are cautious on long-term U.S. Treasuries."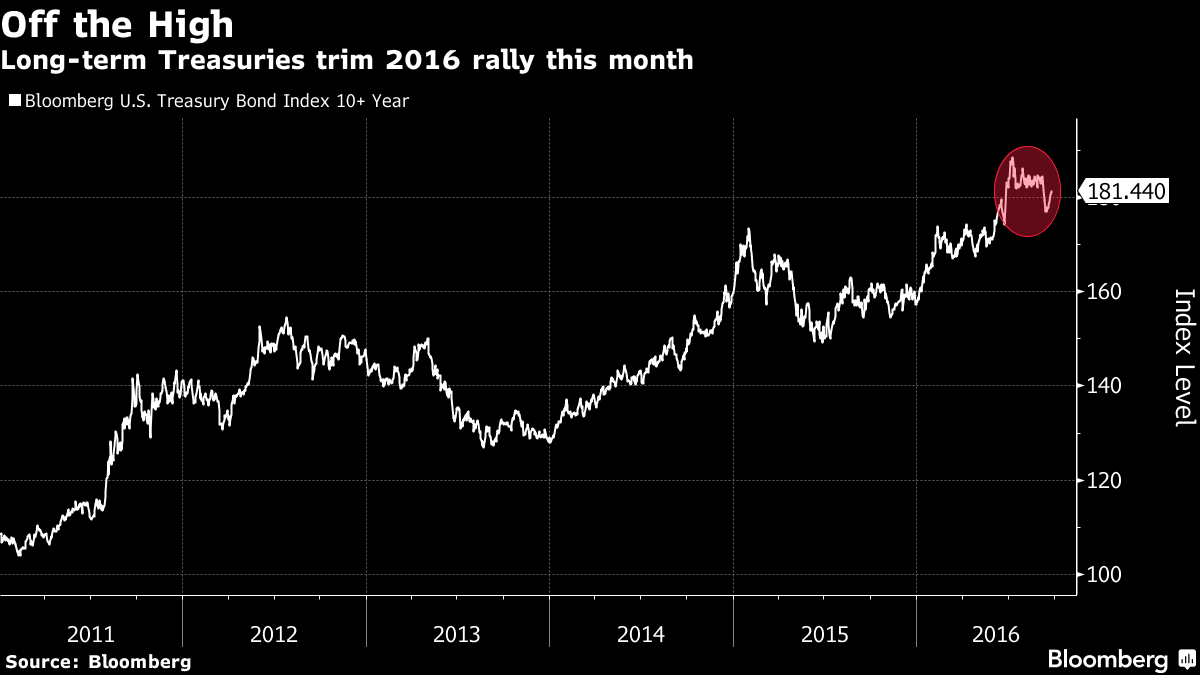 The Fed indicated last week it will raise interest rates by year-end, the report said. Futures contracts suggest the central bank will move as soon as December. The $4.89 trillion fund manager recommends shorter-term corporate and municipal bonds and gold.
U.S. 10-year notes advanced for a second day, with the yield falling three basis points, or 0.03 percentage point, to 1.55 percent as of 9:25 a.m. in New York, according to Bloomberg Bond Trader data. The price of the 1.5 percent security due in August 2026 was 99 17/32.
The yield will increase to 1.72 percent by year-end and exceed 2 percent in 2017, according to Bloomberg survey of economists.
'Diversification Benefit'
Treasuries due in a decade and longer have lost 1.6 percent in September through Monday, based on the Bloomberg World Bond Indexes. They have still returned almost 15 percent in 2016 following a first-half rally.
"Longer-maturity U.S. government bonds still have a role to play -- and should buffer portfolios in any flights to safety," Turnill wrote in the report. "But investors today are paying a lot for this diversification benefit."
The U.S. is scheduled to sell five-year notes Tuesday. It plans to auction seven-year securities and two-year floating-rate debt Wednesday.
BlackRock also warned about Treasuries earlier this month. Rick Rieder, the New York-based global chief investment officer of fixed income, said Sept. 16 on Bloomberg Television there's not a lot of value in 30-year bonds. Treasury rates aren't going to rise dramatically, he said Sept. 22, also on Bloomberg Television.
The BlackRock Strategic Income Opportunities Portfolio has returned 2.4 percent this year, lagging behind about 90 percent of its peers, based on data compiled by Bloomberg. The BlackRock Strategic Global Bond Fund returned 10 percent, beating 77 percent.
Daiwa SB Investments, which has about $53.6 billion in assets, is more bullish. Kei Katayama, one of the investors for the firm, said the Fed's statement following its meeting last week will support Treasuries. Near-term risks to the economic outlook are roughly balanced, the Federal Open Market Committee said. Officials scaled back expectations for rate increases in 2017 and over the longer run.
"I'm a bit positive after the FOMC meeting," he said. "I thought the FOMC is taking a more conservative approach."
Before it's here, it's on the Bloomberg Terminal.
LEARN MORE