Australia Waters Down Tax on Backpackers After Farmer Rebellion
by
Working holidaymakers to face 19% tax, down from planned 32.5%

Morrison says new measures protect integrity of the budget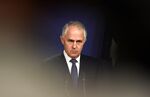 Prime Minister Malcolm Turnbull's government has backed away from implementing a 32.5 percent tax on backpacker wages that farmers said would raise costs by driving away itinerant workers.
Australia will instead tax backpackers, valued for performing seasonal fruit and vegetable-picking jobs, at 19 percent on earnings up to A$37,000 ($28,357), Treasurer Scott Morrison told reporters in Canberra on Tuesday. While the changes will cost the budget A$350 million, other tweaks to working holidaymaker tax arrangements will offset some losses, he said.
"We have now arrived at a package of measures which does protect the integrity of the budget and does address the concerns" of the agricultural and tourism industries, Morrison said.
Turnbull's government is seeking alternative revenue sources to boost his government's drained coffers. Rating agencies have warned that the nation's AAA credit rating is at risk, with the budget deficit forecast to reach A$37.1 billion next year as a mining boom withers. 
The prime minister's bid to target overseas backpackers, who currently only pay tax on earnings above A$18,200, was openly criticized by rural voters and members of his Liberal-National coalition. The tourism industry has blamed uncertainty over the issue for a decline in visitors.
Backpackers pump A$3.5 billion a year into the economy, according to a report by the Australian branch of the Youth Hostels Association, the world's largest backpacker accommodation network.
In a bid to help the backpacking industry, the government will reduce the application change for working holidaymaker visas by A$50 to A$390, Morrison said. To offset the cost, all travelers leaving Australia will be charged an extra A$5 to A$60, and the tax on backpackers' retirement pensions when they leave Australia will be increased to 95 percent, he said.
Before it's here, it's on the Bloomberg Terminal.
LEARN MORE