Aberdeen CEO Says Bond Market Approaching 'Dangerous Situation'
by
Gilbert sees bubble brewing as bond prices hit record highs

CEO says Federal Reserve needs to raise U.S. interest rates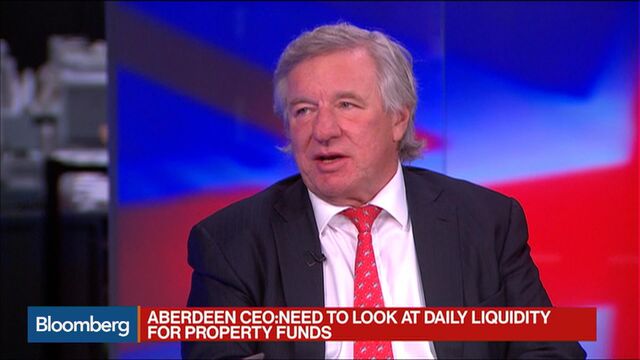 A bubble in the bond market is nearing a "dangerous situation" as asset-buying programs by central banks keep pushing up prices, Aberdeen Asset Management Plc Chief Executive Officer Martin Gilbert said.
"Bond prices are just at all-time highs," the CEO said in a interview with Bloomberg Television's Francine Lacqua. "The Bank of England buying even more is just going to push the price up even more. We're getting into a dangerous situation."
Gilbert, who last year arranged $500 million in credit lines to help fund redemptions in the event of a bond sell off, said he and the regulators had expected the shock from Britain's vote to leave the European Union to affect fixed income. Asset managers, including Aberdeen, were instead forced to temporarily suspend trading in property funds after a surge in redemption requests after the referendum.
Gilbert's concerns echo those of Allianz SE's Chief Investment Officer Andreas Gruber, who said in June that German government bonds are in bubble territory, and Swiss Re AG's CIO Guido Fuerer, who said that the European Central Bank had turned sovereign debt into one of the riskiest asset classes. Janus Capital Group's Bill Gross has also said that central banks have created "a supernova that will explode one day."
A U.S. interest-rate hike is already priced into the market and the Federal Reserve has no choice but to tighten monetary policy, Gilbert said. Aberdeen oversees 301.4 billion pounds ($390.3 billion) in assets with 70.6 billion pounds invested in fixed-income products.
"Not raising rates is more dangerous than raising them," Gilbert said in the interview. "If there was a modest rate increase I be would be very happy with that."
Before it's here, it's on the Bloomberg Terminal.
LEARN MORE