A Viral Homebuyer Stampede Suggests China's Real Estate Policies Are Askew
New rules create a buying frenzy.
by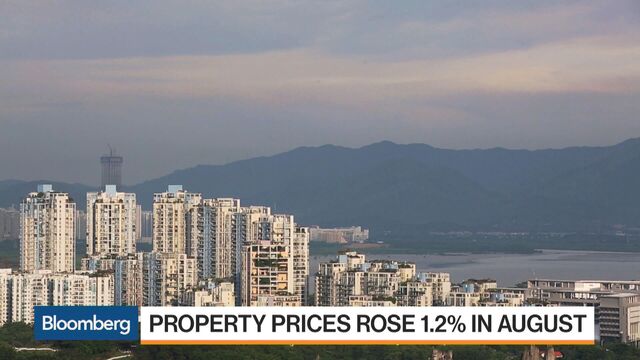 In China, even getting crushed under a giant door won't deter at least one aspirant homeowner from pursuing his dream. (Wait for the 14-second mark.)
This viral video was caught on a surveillance camera last Saturday and posted online by the People's Daily, which reported that this enthusiastic group of buyers was intent on snapping up new real estate in the Chinese city of Hangzhou. The mad frenzy was prompted by an effort to get in ahead of new restrictions taking effect on Monday that would ban those born outside the city from buying more than one property.
Hangzhou is just the latest city in China to introduce ownership rules in an effort to tamp down speculation in an overheated market. But squeezing demand represents a misguided way to tame the bubble, according to Wei Yao, chief China economist at Société Général SA.
"We think that the most effective way to contain the long-term price-appreciation pressure is increasing land supply," Yao said in a briefing on Monday. "The problem right now is developers can't really build houses where they want to. They don't want to build property in small cities, but they do in big cities where there's no land supply."
She said the government is largely focused on measures such as these purchase restrictions, or on tightening the supply of credit to suppress demand. "While these macroprudential tools are needed to contain the bubble, we think that increasing land supply is a better option in discouraging prices from rising too excessively," said Yao.

Restrictions on land supply were introduced to discourage big cities from getting more crowded, undermining social security and infrastructure. Strong budget revenues have supported that policy so far, says Yao, as there is less incentive to sell land to fill municipal coffers. Even if local, big-city governors have recently tried to expand stimulus in the form of more tax cuts, that still doesn't mean the central government will loosen its grip on land.
"From the perspective of the central government, you have to be really careful with housing issues," said Yao. "If you allow housing to be the best investment you can make in China, what about the real economy?"
Before it's here, it's on the Bloomberg Terminal.
LEARN MORE