A Tale of Two Conferences as U.K. Labour Party Seeks to Rebuild
by and
Challenge to harness Corbyn supporters' enthusiasm amid splits

Concerns London bias of activists may hurt party prospects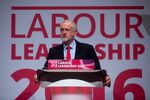 Labour supporters have been holding two conferences in Liverpool, half a mile apart but with a gulf between them that will need to be bridged if the U.K. opposition party is to start the journey back to power.
While the party's lawmakers and activists have been listening to speeches and voting on motions this week in a sleek riverside conference center, a separate gathering organized by Momentum, the group set up to support Labour leader Jeremy Corbyn, was hosting teach-ins, discussions and arts performances in a disused church.
"Labour Party meetings are tedious. All they want the membership for is to go out and deliver leaflets," said Steve Tiller, a 68-year-old opera director from London, who rejoined the party last year after leaving in the 1980s because it wasn't socialist enough. But a short walk over to the Momentum meetings, "there's energy, there's ideas."
The tension between the party and its grassroots membership is not unique to Britain. In Europe and in the current U.S. election campaign, the backlash against mainstream politics is tangible. In the U.K., the divisions in Labour have hurt its chances of getting elected. The party lags Prime Minister Theresa May's Conservatives by as much as 15 percentage points in opinion polls, making a return to power look a long shot.
Click here, to read what Corbyn's victory means for Labour's future.
Momentum is only a year old, formed out of the unforeseen uprising in Labour that got Corbyn elected in 2015 and again at the weekend. It has amassed 14,000 members and been denounced by centrist Labourites as a party-within-a-party and a Trotskyite front group. Tens of thousands more of its supporters have joined the Labour Party to back Corbyn.
Earlier, Tiller accused a Labour member of a local council in north London, who was visiting from the main conference, of being a spy after she listened in to a discussion group. The activist's suspicion, and the councilwoman's anxious reaction to the accusation, illustrated the division between the mainstream party and the enthusiasts for Corbyn's brand of unspun socialism who have flocked to join the party since he was first ran for leader last year.
Create, Innovate
"The campaign was characterized by an incredible surge of energy and enthusiasm for a different kind of politics," said Emma Rees, one of Momentum's national organizers. "A belief that the Labour Party could become a space for creativity, innovation and socialism, and that Jeremy had reignited the belief that the Labour Party could be a transformative party once again."
Labour wasn't founded to be a space for creativity, or a social movement, argue the majority if its lawmakers, who passed a vote of no confidence in Corbyn in June by 172-40. It was founded to win seats in Parliament to represent working people and their interests. 
Iain McNicol, Labour's general secretary read out the party's constitution in his speech to the conference on Sunday: "That's our Labour Party," he said. "A party founded to win elections and form governments."
There is deep suspicion among lawmakers that the purpose of Momentum is to cement Corbyn's control of the party, by putting pressure on members of Parliament to support him and trying to stop those who don't from being Labour candidates in future elections -- a process known as "deselection." 
The party had a series of battles in the 1970s and 1980s as factions tried to seize control and Jon Lansman, Momentum's chairman, is a veteran of those fights.
Beards and Boycotts
In the former church, there were a lot of beards, and badges calling for the bomb to be banned and for Israel to be boycotted. An artist worked on a sculpture of the Sylvia Pankhurst, the suffragette who helped win votes for women in the early 20th century, and there were talks on European radical popular movements and the evils of "neo-liberalism." While the title of the conference was ambitious -- "The World Transformed" -- the meeting didn't look like the most terrifying force in British politics.
The attendees were drawn from the kind of people who worry about whether their coffee is ethically sourced. Visitors could buy books on Marx, mugs bearing the slogan "Tories Are Lower Than Vermin" and "I still hate Thatcher," or spend 10 pounds ($13) on a slim volume of "Poems for Corbyn."
Just Londoners?
Rees asked people at one meeting to put their hands up to show where they were from. Of the roughly 200 activists, there was just one from Scotland, where the Labour Party suffered an electoral near-wipeout in 2015, and more than half the room came from London. "Oh," Rees said, sounding disappointed. "Still that many Londoners, even though we're in the northwest."
Click here to read the London Mayor Sadiq Khan's appeal at the conference.
Londoners are different from the rest of the country: Wealthier, more open to immigration, and more likely to vote Labour in the first place. If Momentum increases the pressure on Labour to reflect the views of its London supporters, it may make the party less popular in poorer, less cosmopolitan areas like northern England.
As Labour agonized at the main conference over how to reconnect with the working-class voters who have deserted it in its former heartlands to vote for the U.K. Independence and Scottish National Parties, activists at the Momentum event discussed their solutions. Making music and meditation were among the suggestions.
As the reality of Corbyn's re-election sinks in, Labour lawmakers fear that the purpose of Momentum is less about winning control of the country than cementing control of the party.  They won't have been encouraged by the words on Saturday of Lansman, Momentum's 59-year-old founder. 
Asked what would happen if lawmakers didn't back Corbyn, he replied: "Only very inattentive people will fail to rally round."
Before it's here, it's on the Bloomberg Terminal.
LEARN MORE