Photographer: Hannah Elliott/Bloomberg
Cars
Volvo's Latest Sedan Punches Far Above Its Weight Class—Here's Why
Test-driving the 2017 Volvo S90 in New York's most snarled traffic proved just how soothing Swedish luxury can be.
By
Last year Volvo brought to market a new SUV that tried to move the brand in a innovative new direction—with standout design, top-tier technology, delicate handling, and a raft of luxury upgrades. This year it has updated its S90 sedan in the same vein—with a host of standard-issue, well-thought-out conveniences—and the result is a spacious chariot that is another firm step in the right direction for the brand.

Perfect Conveyance for Heavy Traffic
I drove a blue 2017 S90 during one of the most snarly traffic weeks we've had in New York this year: Between multiple explosions and bomb threats, we also had President Obama in town along with many other dignitaries and heads of state for the UN General Assembly, which happens to be just a couple blocks from my office at Bloomberg headquarters in midtown.
This meant I allowed for a one-hour commute, each way, to and from the office every day—this for a distance of two miles. The streets were clogged with police cruisers, black Escalades, SWAT vans, and manic cabbies. It was, in fact, the perfect scenario for driving a large sedan well-stocked with safety technology and creature comforts. On the way to work each day I felt content and uncharacteristically unperturbed about the commuting distractions. Maybe it was the car.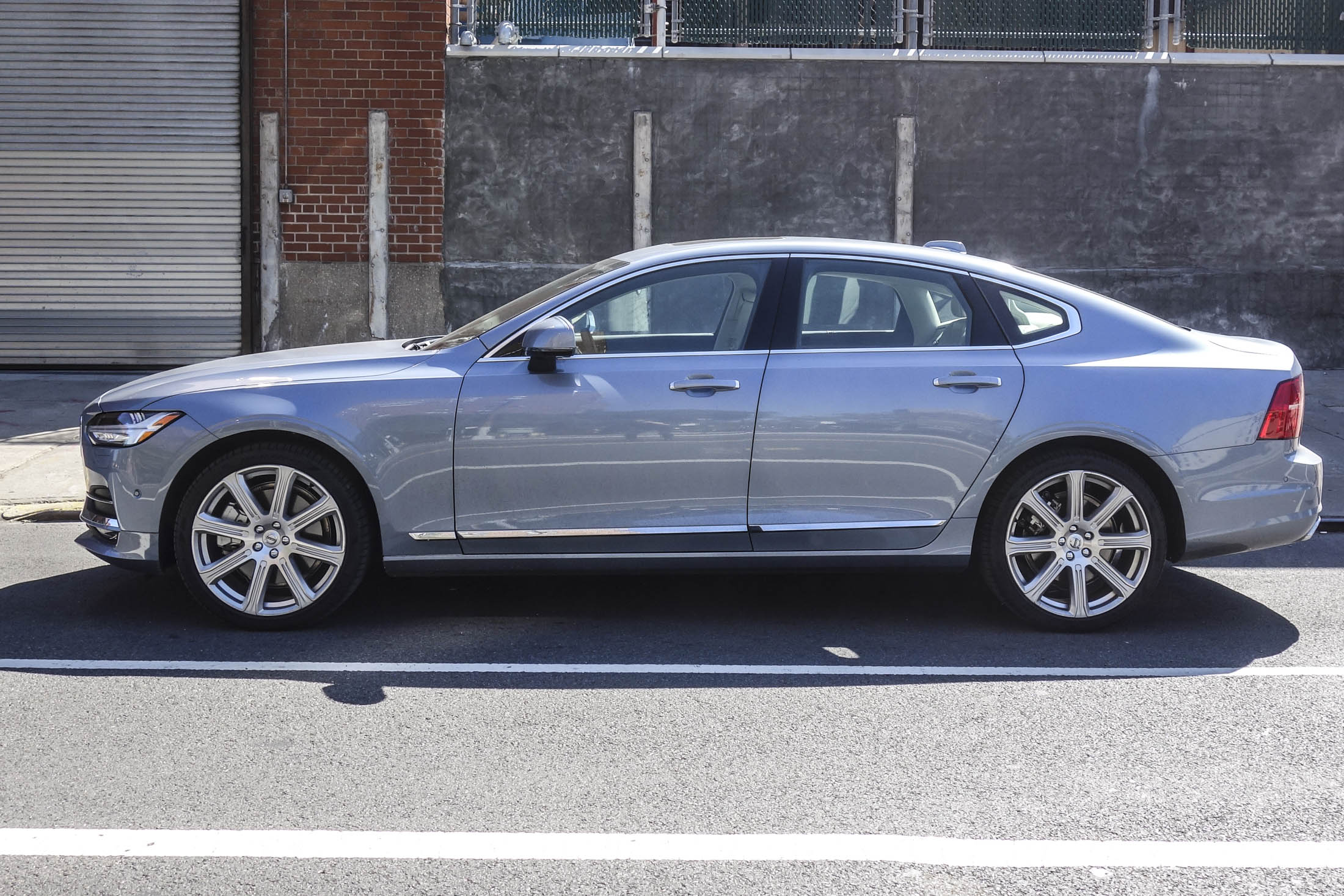 Volvo has worked hard on this $46,950 sedan, giving the T5 trim level a 2.0-liter, inline-four turbocharged engine (a T6 turbo and supercharged 316 hp version is available with AWD) that at 250 hp can reach 34 mpg at highway speeds. It has an eight-speed automatic transmission with automatic stop/start and a shifting system that adjusts to your drive style. Pilot Assist, a semi-automatic driving aid that guides the car via lane lines and works up to 80 mph, comes standard. Premium rear air-suspension costs $1,200 extra—and is worth it, if you plan to be in the back seat more than behind the wheel.
Driving the S90 up and down the West Side Highway was a study in sleek motion; the car is smoothly uniform as you shift through the gears, with solid, firm steering and responsive, sturdy brakes. Everything feels tight and cool, like the inside of a cool, Swedish-made refrigerator. 

Excellent Swedish Design
That's about what you'd expect, too, judging from the outside of the car. As it did in the XC90, Volvo has figured out here how to execute a design that's both reserved and memorable, calm and respectable, but also distinct from its peers. The wide, long, rounded rectangular grill is slightly concave and split pleasingly in the middle with the Volvo badge and slash; the LED headlights—which Volvo calls "Thor's hammer" because of their T-shape—complement the squared edges of the long nose. The chiseled side body flows easily into the politely angular and abbreviated trunk. From the side profile, the car could be mistaken for a BMW 7-Series, but with less of a rounded nose.
On the $50,450 T5 "Inscription" trim level, 19-inch, 10-spoke alloy wheels in silver come standard, as do full LED active-bending headlights and chrome window trim. This is probably the best-value version to buy, though if you can afford the $52,950 AWD T6 version, you should buy it. Regardless of trim level, though, the overall effect of the S90 is one of quiet elegance and preppy frugality. This is Scandinavian design at its best. 
The Good Kind of Minimalism
The interior, too, swells with Swedish delights. Most will say the centerpiece of the spacious, light-filled interior is the large, vertical touchscreen that we also saw in the XC90, but what I liked best about it was the brushed matte and light wood that encircles passengers and driver alike in a warm embrace. It's smooth and soft and suited to match the blond comfort leather and general minimalism of the cabin. Sitting in the S90 is like relaxing in the best blond-wood, dry-heat sauna cabin up North.

A Clear Zone function that ventilates the cabin from allergens, extraneous gasses, and bad smells comes standard; so do a simple cabin filter, power glass moon roof, and multizone electronic climate systems. (That touchscreen is indeed great, with crisp, clear graphics and easy voice control capability. The car comes with 8-inch or 12-inch driver displays behind the wheel as well.) Surround-view parking cameras, auto-dimming mirrors, heated windshields and rear seats, and Apple Car Play are optional.
Elsewhere, such things as the placement of the steering wheel controls (Bowers & Wilkins sound costs $2,650 extra but is worth it) and the vertically aligned, blade-like vents on the dash were obviously well considered in their placement and functionality. Rear park assist, rain-sensing wipers, cruise control, and a host of other technologies come, blessedly, standard.

As for space inside, the S90 is an inch wider and four inches longer than the preceding S80, so there is plenty of room for rear passengers and luggage. The cabin feels light, spacious, and warm; it's well-made and deliberate it its design. Volvo equals such rivals as the Audi A6, Mercedes E Class, and Porsche Panamera in this regard. All things considered, and including the value you get for the money, most drivers will find that for their purposes, it is just as good as those. More than one person who rode with me commented that the car felt like riding in a BMW 7-Series: as minimal and roomy, though somehow—if less aggressive on horsepower, handling, and speed—a notch more refined.
The comparison is certainly apt. For a car that costs more than $20,000 less than competitors from Audi, BMW, Mercedes, and Porsche, the Volvo S90 punches far above its weight.

Before it's here, it's on the Bloomberg Terminal.
LEARN MORE