U.S. ELECTION WRAP: Locked in Tie, Trump-Clinton Bout Is Here
Bloomberg TV will conduct a live fact check during tonight's highly anticipated Clinton-Trump debate. The evening is more likely to be a rendition of "greatest hits'' from the candidates as opposed to telling voters anything new, one pop culture expert predicts.
By and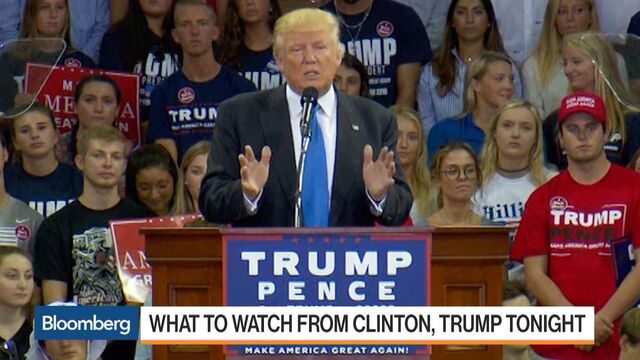 The long-awaited political fight between Hillary Clinton and Donald Trump is more likely to feel like a midnight screening of "The Rocky Horror Picture Show" than a forum for new ideas, one pop culture expert says.
"Most viewers won't be tuning in so much to hear something new from Clinton or Trump," Robert Thompson, director of Syracuse University's Bleier Center for Television and Popular Culture, says in interview

It's more likely voters will be able to sit back, wait for their favorite lines and recite the dialogue as if watching "Rocky Horror," he says in reference to the 1975 cult film

Monday night's debate starting at 9 p.m. N.Y. time will run on at least 13 major TV channels -- along with multiple web sites and radio outlets -- and is estimated to draw as many as 100 million viewers, even with the New Orleans Saints vs. Atlanta Falcons Monday Night Football game competing for eyeballs on ESPN
Like a sporting event, most people will want to watch the first Clinton-Trump debate live as opposed to taping it, Thompson says
The most watched televised presidential debate to date is the Jimmy Carter-Ronald Reagan match-up in 1980 that drew ~80 million, he says
A Monmouth University poll finds that 75% of voters will watch debate; just 2% say it's "very likely" the debate will change their mind
Aaron Kall, director of debate at University of Michigan and editor/contributor of the book "Debating The Donald," has said tonight's forum has potential to be the nastiest general election debate ever

But it's just that kind of high expectation that could make it a "snooze-fest," he says
"Trump could be on his best behavior and not take the bait from Clinton," he says in interview, noting that in the last GOP primary debate Trump didn't engage in any theatrical insults at all, leaving his Republican rivals with no material to "take him down"

Tonight's debate may prove to be Trump's ultimate test of whether his new-found discipline on the campaign trail can hold when he needs it most; see full Bloomberg story here

Another reason tonight could be subdued than anticipated is the chance that Clinton goes the "wonky" route and focuses heavily on previously outlined policy details: Kall
Still, it's hard to imagine there won't be a "major zinger or gaffe" in at least one of the three upcoming debates, he says

Thompson notes that the Joe Biden-Sarah Palin VP face-off in 2008 was widely expected to be a major event with high potential for Palin to "flame out," but it turned out to be a largely conventional debate

"We won't know until 10:30 p.m. tonight if this debate makes the clip reel when the documentary about the 2016 election is made": Thompson

The debate coincides with new Bloomberg Politics national poll out today that shows Clinton and Trump tied in a two-way race for the White House, with each getting support of 46% of likely voters

Trump gets 43% to Clinton's 41% when third-party candidates are included

MORE DEBATE
In a piece of cheeky psychological warfare leading up to the first debate, Clinton has turned to what may seem like a surprising place: ESPN.com, Bloomberg's Mark Halperin and Kendall Breitman write
Trump's debate guests include Mark Geist, a survivor of terrorist attack in Benghazi, Libya; Karen Vaughn, a Gold Star mother; and Gen. Michael Flynn, former Defense Intelligence Agency director, according to NBC News

POLLS/PREDICTIONS
Gold may be in for a bumpy ride in the final quarter as Trump now has a 40% chance of winning the election and investors will be preparing for the possibility of higher U.S. interest rates, according to Citigroup; read full story here
Trump and Clinton are deadlocked in crucial swing states of Colorado and Pennsylvania, according to CNN/ORC survey
Clinton tops Trump by 6 points, 39%-33%, in Virginia, when 3rd-party candidates are included, Wason Center poll for Christopher Newport University shows
Clinton and Trump race is too close to call in new Quinnipiac University national poll

ETC

CONGRESSIONAL ELECTIONS
SENATE RACES (Republicans hold 54-46 majority)
BIG PICTURE: Democrats "are now facing a tougher road" to winning a Senate majority as Trump is "not proving to be the dramatic drag on down-ballot candidates that Republicans once feared," Washington Post reported

Voters appear to be "separating Trump" from "Republicans running on the same ballot with him," according to the Post
AZ: Republican Sen. John McCain and Democratic Rep. Ann Kirkpatrick are competing to "attract support from a growing number of Latino voters who could swing a tight race to either candidate," Arizona Republic reported

McCain and Kirkpatrick both have aired Spanish-language ads; while McCain has said he'll support Trump, Kirkpatrick is "not well-known among Latinos" and "could be hurt if they remain less than enthused" about Clinton and don't vote in the election
Kirkpatrick's campaign released TV ad saying McCain has been "too long in Washington" and she's "uniquely Arizona"
NH: Democratic Gov. Maggie Hassan's campaign in TV ad said N.H. is business-friendly state because of her "approach to innovation and business development" and more education funding while keeping state free of income and sales taxes

Hassan seeking to unseat Republican Sen. Kelly Ayotte
NV: Democrat Catherine Cortez Masto's campaign released TV ad linking Trump to Republican Rep. Joe Heck

Ad cites Trump's comments last year that some Mexican immigrants are "bringing drugs, they're bringing crime, they're rapists"; spot also notes Heck told NV newspaper that he has ''high hopes that we will see Donald Trump become the next president"
Heck's campaign released TV ad with people praising his work to stave off home foreclosures; one woman says "I still have my roof over my head, and that's all due to Dr. Heck," who's also an osteopathic physician
PA: Democrat Katie McGinty, who's challenging Republican Sen. Pat Toomey, will campaign in Philadelphia with Vice President Joe Biden tomorrow and with First Lady Michelle Obama on Sept. 28, according to campaign release
HOUSE RACES (Republicans hold 246-186 majority)
AZ-01: Republican Paul Babeu and Democrat Tom O'Halleran sparred in a debate Sept. 23 over government spending, energy, and Babeu's previous employment at a Massachusetts school, Arizona Republic reported

Babeu, the Pinal County sheriff, and O'Halleran, a former state legislator, seek Kirkpatrick's competitive district
ME-02: Democrat Emily Cain's campaign released two TV ads, one that touts her opposition to "unfair trade deals" and another that says Republican Rep. Bruce Poliquin is "out of touch" and "out for himself"

Poliquin, Cain in rematch of 2014 race that Poliquin won 47%-42%; Clinton and Trump competing for district's electoral vote
NY-21: Republican Rep. Elise Stefanik's campaign in TV ad touted constituent-service operation including responses to 39k letters, 4k phone calls, and freeing up Social Security and veterans benefits

"I'm doing what I can to get Washington working for you, just like I promised," says Stefanik, who's opposed by Democrat Mike Derrick in a competitive district that includes the North Country
Before it's here, it's on the Bloomberg Terminal.
LEARN MORE