Two 2017 Fed Voters Differ on Rate Hike After Latest Decision
by and
Dallas Fed chief would have been 'comfortable' with increase

Minneapolis Fed's Kashkari backed FOMC decision to hold steady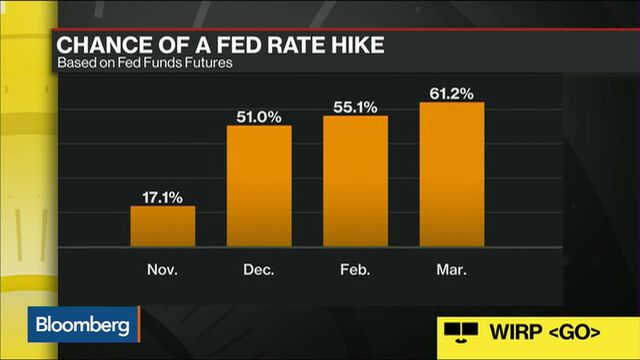 Two Federal Reserve officials who will vote on monetary policy next year offered different views on whether to raise interest rates now, highlighting both sides of a debate that drew a rare three hawkish dissents from policy makers last week.
Dallas Fed President Robert Kaplan said he would have been comfortable with a rate hike this month, while Minneapolis Fed chief Neel Kashkari, speaking at a separate event, questioned whether the global economy can sustain such a move. Both presidents will rotate into voting slots on the Federal Open Market Committee for the first time in 2017.
Their comments followed remarks by Richmond's Jeffrey Lacker in an Fox News interview, in which he said that "I think we need to get on with it."
Fed Chair Janet Yellen and her colleagues are creeping toward raising interest rates for the first time this year as they nurse the U.S. economy through a period of sluggish growth and low inflation. Officials judged at their Sept. 20-21 meeting that the case for a rate rise had strengthened, but "decided, for the time being, to wait for further evidence of continued progress" toward the central bank's inflation and employment goals.
Investors see a roughly one-in-two chance of a move in December by the policy-setting Federal Open Market Committee, and Fed officials' own forecasts project one move this year, based on their median estimate.
The decision last week to keep rates steady split the FOMC. Three regional Fed presidents dissented from the vote to hold rates unchanged in favor of a hike, the first time since 2011 that had happened. The target range for the benchmark federal funds rate has been kept at 0.25 percent to 0.5 percent since December, when it was raised by a quarter point after seven years trapped near zero.
Comfortable Hiking
Kaplan told the Independent Bankers Association of Texas in San Antonio that "I would have been comfortable in seeing some removal of accommodation in September." While there aren't signs the U.S. economy is overheating, "I am concerned about distortions rates this low are creating," he said, and noted the Fed was watching commercial real estate carefully.
Sharp price increases in this sector have been cited by Boston Fed chief Eric Rosengren, who was among the dissenters last week and has emerged as a powerful advocate within the Fed for higher rates, after years of arguing for easy monetary policy to boost jobs.
Officials favoring rate patience point out the risk of a premature increase in the face of weak growth and low inflation abroad and Kashkari, speaking with reporters in Minneapolis, echoed that line of reasoning.
Global Economy
"It's not just a question of when the U.S. is going to be able to raise rates," he said on the sidelines of a conference he hosted on ending too-big-too-fail banks. "It's also a question of when the broader global economy can sustain a higher-interest rate environment."
Kashkari and Kaplan both for the first time be voting members of the FOMC next year. Kaplan, a former Goldman Sachs executive and senior associate dean at Harvard Business School, took the reins at Dallas in 2015. Kashkari, who also worked for Goldman before joining the U.S. Treasury Department in Washington, began at Minneapolis in January.
Kaplan declined to say whether he would have dissented at last week's meeting if he had been a voter this year.
Before it's here, it's on the Bloomberg Terminal.
LEARN MORE