Taiwan Shuts Markets as Typhoon Megi Strengthens, Cuts Power
By
Airlines cancel flights as waves over 20 feet high spotted

Thousands evacuated, more than 280,000 households lost power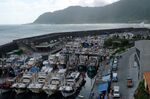 Typhoon Megi lashed Taiwan with wind and rain on Tuesday, bringing 20-foot-high waves and knocking pedestrians off their feet in Taipei.
More than 280,000 households lost electricity, state-owned utility Taiwan Power said on its website. About 5,000 people were evacuated, according to the island's National Fire Agency. The capital city of Taipei shut markets, schools and offices, along with municipalities across the island.
Seven-meter (23-foot) waves crashed along the eastern shore, Cti Television images showed. Pedestrians venturing outdoors lost their balance against strong winds in Taipei.

The fourth typhoon to trigger warnings by Taiwan this year had sustained winds of 162 kilometers (101 miles) an hour, gusting to 198 kilometers an hour, the Central Weather Bureau said. As of 11 a.m., the center of the storm was 110 kilometers off the coast of eastern Taiwan's Hualien. No injuries or deaths had been reported. The storm engulfed the whole of Taiwan's main island, the weather authority said.
Low-lying coastal areas were alerted to possible flooding and a torrential rain warning was issued for counties and cities across the island. Dozens of townships were put on landslide watch.
More than a hundred flights into and out of Taiwan were canceled as of 11 a.m., according to Taiwan's biggest international airport in Taoyuan. Cathay Pacific Airways Ltd. canceled 32 flights Tuesday and Wednesday. High speed rail service along Taiwan's western coast was suspended all day Tuesday.
In China, the meteorological administration raised the level of its emergency response readiness and forecast Megi to make landfall on the coast of Fujian province Thursday morning.
Before it's here, it's on the Bloomberg Terminal.
LEARN MORE