Soros Helping to Turn Back Tide of Hedge-Fund Outflows in Europe
By
Former Highbridge, BlueCrest money managers start funds

Soros, Paloma Partners among backers of European managers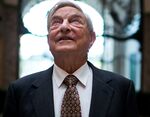 As hedge funds hemorrhage cash at the fastest pace since the financial crisis, a new crop of money managers is starting to buck the trend in Europe with backing from some of the industry's biggest names, including George Soros and Donald Sussman at Paloma Partners LLC.
The new funds are being started by traders who have built reputations at some of the best-known investment firms. Former BlueBay Asset Management managers Neil Phillips and Jonathan Fayman have raised almost $2 billion including money from Soros, according to people familiar with the matter. Former Highbridge Capital Management's John Aylward, 37, has received about $300 million from Paloma to start a credit fund.
"This vintage of new funds is probably going to be the best performing vintage since 2009 because you are getting higher quality managers coming out, hungry to prove a point," said Erik Serrano Berntsen, chief executive officer of Stable Asset Management, which invests in hedge-fund startups. "All the best investments, to some extent, are a bit contrarian."
Poor returns, the mounting cost of regulatory compliance and investors' reluctance to allocate capital has led to more hedge funds closing than starting in Europe since 2015. Investors are also balking at high fees -- hedge funds have traditionally charged 2 percent of assets and taken a 20 percent cut of performance -- that have rewarded managers so well in the past. Charges are declining, according to industry tracker Preqin Ltd, and investors want them to fall further.
About 530 hedge funds have closed in the region since the start of 2015, while only 452 have started, according to Eurekahedge data. The industry is dominated by managers overseeing less than $100 million and they are struggling to remain afloat, with the Eurekahedge index for European hedge funds declining 1 percent through August this year, underperforming a 2.8 percent rise in a gauge that measures returns for global peers.

"There's an opportunity right now because all the big guys have become super big and the smaller guys are struggling --in between there's an empty space," said Marcello Sallusti, who left Egerton Capital U.K. LLP after 16 years in February to start his own hedge fund. "In a zero interest-rates world, people are looking for investment opportunities and a startup doesn't need multi-billion assets under management to cover running costs."
Sallusti, 53, who was part of the core investment team at $14.6 billion Egerton Capital, said he will start Engadine Partners in London later this year to bet on equities with more than $200 million raised from partners and early-stage investors. 
"Everybody tells me it's very tough," Sallusti said in an interview."There's never an ideal moment to start a new business. Important choices in life come naturally."
Among other startups, Mikael Brantberg, 37, a former managing director at Farallon Capital Management LLC, is seeking regulatory approval to start a credit hedge fund, while Andrew Manuel, a co-founder of the $2.5 billion hedge-fund firm LMR Partners LLP, is setting up Ixworth Capital LLP in London. Tej Johar, 28, a former money manager at BlueCrest Capital Management, is starting an event-driven firm, Broad Bridge Capital LLP, and has received money from a U.S. institution, a person familiar said.
The Soros-backed Glen Point Capital, where Phillips and Fayman have already started trading, is one of the largest hedge-fund startups in Europe this year, according to two people familiar with the matter. Officials at Glen Point declined to comment, as did a spokesman for Soros.
Glen Point bets on macroeconomic trends with a focus on emerging markets. Phillips, 46, joined BlueBay, owned by Royal Bank of Canada, in 2005 and managed a macro hedge fund. The firm closed the $1.4 billion fund after he and Fayman, 33, left in November 2014. The fund had gained 8 percent through October of 2014 and closed under "ridiculously successful circumstances", Phillips had said in an interview at the time.
Challenges remain because investors are backing only the best of the breed, with some of the biggest players in the industry still seeing negative returns. Funds managed for some of Europe's biggest firms such as Lansdowne Partners and Brevan Howard Asset Management have lost money this year.
"We are witnessing hedge-fund culling in Europe," said Mohammad Hassan at Singapore-based industry tracker Eurekahedge. "Managers continue to face the axe following a disappointing stream of returns."

For the moment, investors are focusing their attention on smaller firms, with data from research firm eVestment showing hedge funds with less than $1 billion in assets received net inflows of $4.2 billion globally in August, more than double the amount that went into funds managing more than $1 billion.
That may drive more money managers to venture out on their own, according to Stable Asset Management's Berntsen, who said there are many traders at big firms unable to take risks because their employers want to play safe. And that's cutting into pay packets.
Some younger mangers "may be incentivized to leave because they know that they are not going to be paid this year and probably next year," said Michele Gesualdi, the London-based chief investment officer at Kairos Investment Management, which invests in hedge funds. "So they might as well start on their own."